S&P Friday the 13th for Euro zone; nine countries suffer the rating scimitar
Saturday, January 14th 2012 - 06:20 UTC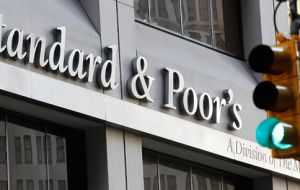 The worst-kept secret on Wall Street was officially confirmed after the close Friday, when Standard & Poor's downgraded its sovereign debt rating on France to AA+ from AAA. Spain and Italy saw their ratings cut two notches, while Germany's AAA rating was left unchanged.
Earlier in the day Finance Minister Francois Baroin had confirmed the news saying that "it's not good news, but it's not a catastrophe".
However "we shouldn't do politics with this and we should be cold blooded…rating agencies don't dictate France's policies". He added "it's like a student with an average 20 out of 20 and suddenly drops to 19, it is a catastrophe but France's rating remains "excellent".
Widely-anticipated since the ratings agency put most of the 17 Euro zone countries under review in December, France's downgrade Friday puts its rating in line with that of the US, which S&P cut in August.
Importantly, S&P said its outlook on France remains negative, which indicates a one-in-three chance that the rating could be cut again in 2012 or 2013. The impact on the European Financial Stability Facility, the current bailout mechanism that depends on the AAA imprimatur of its sovereign backers, remains to be seen.
S&P said the outcome of the Dec. 9 EU summit, and subsequent statements "lead us to believe that the agreement reached has not produced a breakthrough of sufficient size and scope to fully address the Euro zone's financial problems."
Even worse, S&P said, European leaders are still partially in denial of the real cause of the crisis, focusing on "fiscal profligacy at the periphery of the Euro zone," rather than the consequences of "rising external imbalances and divergences in competitiveness between the Euro zone's core and the so-called 'periphery.'" Reform based chiefly on fiscal austerity, which comprises the bulk of Europe's response to date, "risks becoming self-defeating, as domestic demand falls in line with consumers' rising concerns about job security and disposable incomes, eroding national tax revenues".
France was not the only Euro zone country to feel S&P ax Friday. Austria was cut to AA+ from AAA; Cyprus to BB+ from BBB; Italy to BBB+ from A; Malta to A- from A; Portugal to BB from BBB-; the Slovak Republic to A from A+; Slovenia to A+ from AA-; and Spain to A from AA-.
S&P left the AAA ratings of Germany, Finland, Luxembourg and the Netherlands unchanged. Unlike its view on most of the region, S&P has a stable outlook on Germany's credit rating.
Echoing its statement on France, S&P said that "the policy initiatives that have been taken by European policymakers in recent weeks may be insufficient to fully address ongoing systemic stresses in the Euro zone. In our view, these stresses include: (1) tightening credit conditions, (2) an increase in risk premiums for a widening group of Euro zone issuers, (3) a simultaneous attempt to de-lever by governments and households, (4) weakening economic growth prospects, and (5) an open and prolonged dispute among European policymakers over the proper approach to address challenges".
The European Central Bank managed to evade S&P scorn. The ratings agency said Euro zone monetary authorities "have been instrumental in averting a collapse of market confidence," mostly thanks to the ECB launching new loan programs aimed at keeping the European banking system liquid while it grapples with funding pressure brought on by the sovereign debt crisis.