Meryl Streep wins Best Actress Golden Globe for her role as "The Iron Lady"
Monday, January 16th 2012 - 07:02 UTC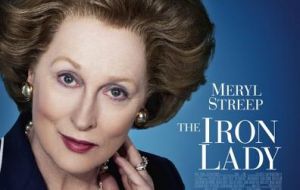 Meryl Streep has won a Golden Globe Award for Best Performance by an Actress in a Motion Picture - Drama for her role as former UK Prime Minister Margaret Thatcher in "The Iron Lady" who in Latin America is remembered for her fight against the unions, the Falklands conflict and her disgust with a 'federation' of Europe.
Streep beat nominees Glenn Close of "Albert Nobbs," Rooney Mara of "The Girl With The Dragon Tattoo," Viola Davis of "The Help" and Tilda Swinton of "We Need to Talk About Kevin." The winners of the 2012 Golden Globes were named at a Los Angeles ceremony on Sunday, January 15.
"The Iron Lady," which is based on the nickname of the 85-year-old Conservative leader and Britain's first and only female prime minister, depicts how Thatcher "smashed through the barriers of gender and class to be heard in a male-dominated world," the production company Pathe said in a statement.
"For me, as an actor, just walking into the first day of rehearsal was incredibly daunting because there were all these wonderful British actors, I think there were about 40 or 45 of them, and I was the only woman in the room," Streep said in an interview provided by The Weinstein Company.
"I sort of had the feeling that Margaret Thatcher must have had when she walked into the conservative party."
"The Iron Lady" was nominated for one Golden Globe Award, an acting nod for Streep, who has won six and been nominated for 26 Golden Globe Awards.
Filming on "The Iron Lady" began on January 31 and the movie hit theatres on December 16 in the United States and on Jan. 6, 2012 in the United Kingdom. Its director is Phyllida Lloyd, who directed Streep in the 2008 film "Mamma Mia!"
"There isn't any other role like this, because we've never had a female Prime Minister in the western world, ever! To be generous, this character is unusual but what's not unusual is the point of view from which the film looks at that life," Streep said at the film's New York premiere. "It's her point of view -- it's a very subjective look at a very big life, but it is a look back from the waning edge of power. It's a look back at power from the point of view of powerlessness."
The film is set in 1982 and tracks Thatcher in the 17 days before the two-and-a-half-month-long Falklands War, whose victory spurred increased approval ratings that ultimately helped lead her to win a second term.