Minister recalls Captain Scott's South Pole feat and heralds work of UK polar scientists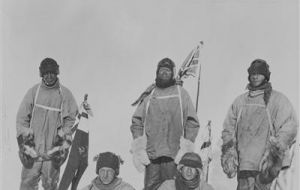 On the eve of the centenary of Royal Navy Captain Robert Scott reaching the South Pole, Foreign Office Minister Henry Bellingham has heralded the work of British polar scientists in helping to shape the understanding needed for managing climate change and contributing to the UK's work for the peaceful protection of Antarctica.
Speaking today at the headquarters of the British Antarctic Survey in Cambridge, Mr Bellingham said:
"There is a golden thread that stretches from Captain Scott and his contemporaries right through to the most cutting-edge climate change and environmental science of today. It is no accident that the Antarctic continent is legally devoted to peace and pursuit of science. It stems from the spirit of Scott and endures today because of the continuing work of the British Antarctic Survey, the Scott Polar Research Institute and others."
Mr Bellingham also underlined the UK's continuing commitment to the protection of Antarctica through the long-standing Antarctic Treaty.
Minister Bellingham added that the agreement of the Antarctic Treaty in 1959, borne itself from international scientific co-operation "has stood the test of time in sustaining Antarctica as the only continent in the world never to have seen conflict. The UK remains fully committed to the Antarctic Treaty and will continue to promote its objectives for the comprehensive protection of the Antarctic".
During the visit, Mr Bellingham met members of the British Antarctic Survey who have put the UK at the leading edge of research on global climate change and visited the ice rooms to see how the snow that has fallen over hundreds of thousands of years has trapped air bubbles that can tell us about past climate change. He held a piece of ice that fell as snow 100 years ago - almost exactly when Captain Scott reached the South Pole.
Nick Owens, Director of the British Antarctic Survey, said: "The Polar Regions may well be at the ends of the Earth but what happens there really does affect us all. Our mission is to work in partnership with the international research community to research, discover and understand the role that the Polar Regions play in the Earth's system. The knowledge that we gain from studying these unique natural laboratories forms the basis of policy decisions that help humanity live with and adapt to environmental change."
The Minister also visited the Scott Polar Research Institute today where he met those responsible for continuing the polar explorer's scientific legacy. He visited their current exhibition on Scott and discussed plans for the centenary events being held around the UK.