Hague arrives in Brazil for two-day visit to launch a 'strategic dialogue'
Wednesday, January 18th 2012 - 05:36 UTC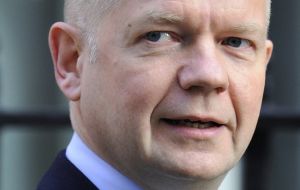 Foreign Secretary William Hague begins Wednesday a two-day visit to Brazil which according to Brazilian sources will mark the beginning of a strategic dialogue between the two countries.
In Brasilia Hague will meet with his peer Antonio Patriota, with Defence minister Celso Amorim and in Rio do Janeiro with Governor Sergio Cabral and the Commander of the Brazilian Navy, Admiral Julio Soares Moura Neto.
This is the first visit to Brazil in six years of a Foreign Secretary and is seen as a turning point for British withdrawal from Latin America.
"Now I think it is universally understood across the capitals of the region that Britain is expanding. Britain is coming back", said Hague in a Sunday interview who described Brazil as "one of the emerging powers of the world".
Disarmament and non-proliferation, the UN Security Council, the Middle East and North Africa, human rights, hunger and poverty eradication, and sustainable development are some of the topics on the agenda for the talks, said the Brazilian Ministry of Foreign Affairs in a communiqué.
Patriota and Hague will also talk about improving links in such areas as energy, education, technology and development, as well as bilateral cooperation in the organization of mega sports events.
The press release says that there is a potential to expand bilateral collaboration, like the program Science without Borders, which is aimed at financing scholarships for more than 100,000 Brazilian youths at the best universities in the world, including reinforced involvement by the private sector.
The Foreign Ministers will also address global affairs, such as the United Nations Conference on Sustainable Development (Rio+20), the international financial crisis and the reform of political and economic governance institutions.
Promoting trade and investments are also included in the agenda. Bilateral trade in 2011 totalled 8.57 billion dollars, up 10.21% over 2010. Brazilian exports to the UK increased 12.4%, reaching 5.2 billion.
In the last ten years, the stock of British investments in Brazil rose by 8.4 billion dollars, making the United Kingdom the 6th largest investor in the country.