Thirteen cruise vessels call at South Georgia; growing number of Chinese visitors
Wednesday, January 18th 2012 - 02:54 UTC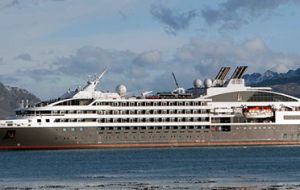 Thirteen cruise vessels visited South Georgia last December including new vessel "L'Austral" which, in line with usual practice, was joined by a Government Observer to look at the ship's operation, passenger management and bio-security procedures, reports the South Georgia Newsletter.
L'Austral is the second of two super-luxury cruise ships built by Fincantieri for French-based cruise-line operator Compagnie du Ponant. The ship is also called a mega-yacht due to its size and sophisticated decor.
The first cruise ship, Le Boréal, was launched in October 2009 while the second, L'Austral, was launched at Ancona shipyard in April 2010. The official ceremony of the cruise ship took place on 26 April 2011 in Marseille.
The ship has an overall length of 142m, a moulded breadth of 18m and a draught of 4.7m. The vessel's gross tonnage is 10,700t. The cruise ship can accommodate over 264 guests in 132 staterooms.
Another vessel "Plancius" was acting as support vessel for two groups attempting the Shackleton Crossing.
Several ships visiting around Christmas time held services in the old church at Grytviken. One vessel "Fram", which had 200 passengers on board, included a small group of Chinese tourists as they have on several past cruises. Next season they have plans for a complete Chinese charter of the 200+ passenger vessel.
Unusually for the summer season, after charter yacht "Pelagic Australis" left at the beginning of the month, there were no yachts around the Island.
In late December the Dutch training tall ship "Bark Europa" also called in King Edward Cove.
The Royal Navy Atlantic patrol "HMS Montrose" was also in the area in December.