The white settlers' dilemma
Thursday, January 19th 2012 - 23:11 UTC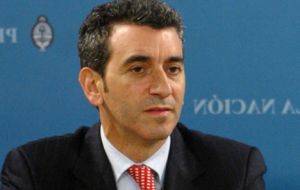 by James Nielson, Buenos Aires Herald - David Cameron was certainly being provocative when he accused Cristina's government of "colonialism". It was a quite dreadful thing to say.
All right-thinking people know that Argentina has long been an innocent victim of heartless foreign colonialists who are determined to keep their country down, so the British Prime Minister was being ridiculous when he included its current rulers among such evil-doers just because they think the Falkland Islanders should go somewhere else. As the interior minister Florencio Randazzo told him, his remarks were "absolutely offensive". Indeed they were: for devout Peronists and many others, the man Cristina said is "stupid" had the effrontery to attack the strenuously constructed national identity they are determined to cling to.
Cameron may not have been aware of it, but by speaking as he did he touched a very tender spot. Like North Americans who think they cannot possibly be "imperialists" because their mainly British predecessors broke away from the British Empire, many Argentines are determined to persuade themselves that, despite appearances and the historical record, they are not white settlers who are reaping the benefits of European expansion into the Western Hemisphere but, in spiritual terms at least, an indigenous people whose roots run deep.
When the five-hundredth anniversary of Columbus's arrival came around, some children of recent immigrants protested with great indignation against the rather modest celebrations saying that nothing would make them pay homage to the man who started "the invasion" of their continent. Many still think that way. With considerable ingenuity, nationalists of one kind or another have contrived to transform themselves into honorary aborigines who are fully entitled to berate the misbehaviour of their own forefathers. The more cerebral among them would like Argentina to liberate itself entirely from the colonial yoke by repudiating all influences emanating from benighted Europe, though as yet none of them has gone so far as to speak, write and think solely in Guaraní, Quechua or Mapuche.
Unlike most other Latin American countries where much of the population is of Amerindian origin, Argentina still has a distinctly European flavour. Its leaders no longer tell the world it is "the only white country south of Canada", though some take pains to stress the "human quality" of its inhabitants, a subtle way of alluding to what they assume is a racial advantage, and prejudice against people of mixed or non-European ancestry is still surprisingly common.
The dispute between intellectuals who think Argentina is basically European and those who say it is really something completely different has been going on for many decades, with the latter gaining the upper hand, in large measure because since the Second World War the Europeans who stayed home have been in an apologetic, self-critical mood, and only too willing to confess to being far worse than anyone else. With considerable glee, Africans and Asians, plus ethnic, religious and even sexual minorities living in Western countries, have been making the most of European grovelling by playing the victim card and demanding redress.
So too have Argentine nationalists, a breed much given to collective self-pity. Instead of congratulating themselves for having inherited a major share of the spoils of empire (barely forty million people have the run of a fertile territory that is almost as big as the one inhabited by over a billion Indians), they complain bitterly because the British imperialists refuse to let them have some small, windswept, rain-soaked and chilly islands several hundred kilometres away from the mainland. Few would dream of visiting them, let alone live there, but then the dispute is not about Lebensraum, it is about symbolism. Argentine nationalists want to feel the world has played them a dirty trick and going on about the Falkland Islands, with the support of many other victims, real or imagined, of imperialist perfidy, is a splendid way of proving oneself hard done-by.
Were Argentina's rulers really interested in getting the islands, they would have stuck to the much-ridiculed policy initiated by Guido Di Tella of being very nice to their inhabitants, many of whose forefathers went there when those of most Argentines were still in Italy, Spain or places like Syria, in the belief that as time passed they would wean themselves away from the distant metropolis and become attached to their closest neighbours. That policy would have made sense if for some inexplicable reason the many nationalists who take the issue seriously thought Argentina needed yet more territory, but that is not really what they are after. What they dream of is a rousing diplomatic battle that ends with their own triumph and the humbling of the arrogant Anglo-Saxons. Should the islanders try to stand in the way, so much the worse for them. They do not count.
And then? In the unlikely event of the British abandoning the "Kelpers" to whatever fate Cristina, Randazzo, Timerman and company think they have in store for them, an effort would be made to show the world that Argentina really needed the islands, but after the first flurry of investment they would in all probability be left alone, like so many other parts of the country that have been allowed to sink into rural poverty