"To all effects" Venezuela is fully integrated to Mercosur, says Uruguay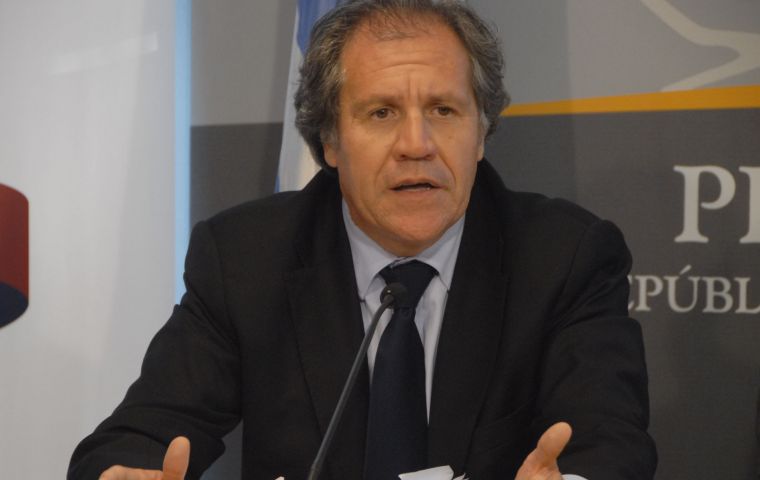 "In practical terms Venezuela if fully integrated to Mercosur" said Uruguayan Foreign Affairs minister Luis Almagro during a meeting this week with foreign correspondents.
The formal incorporation of Venezuela as full member of Mercosur (unanimity from Argentina, Brazil, Uruguay and Paraguay) remains blocked by the Paraguayan Congress which refuses to hold a vote arguing the problem is not with Venezuela but with "its leader Hugo Chavez" and his undemocratic policies limiting the press and persecuting the opposition.
Chavez first applied to become a Mercosur full member in 2006 and since then the Argentine and Uruguayan legislatives rapidly approved the incorporation. The process in Brazil was slower and had a high cost for former president Lula da Silva, but he managed to overcome the situation and paid the political price given his immense popularity.
Lula da Silva basic argument was business for Brazilian corporations in oil rich Venezuela and it was better to have 'Chavez in the fold than outside in mischief'.
However in Paraguay President Fernando Lugo elected by a catch-all coalition has lost control over lawmakers and no longer enjoys even a working majority.
Several attempts to have the Venezuela incorporation charter considered had to be withdrawn to avoid the President Lugo administration a major debilitating defeat.
Faced with this situation in the last Mercosur summit held in Montevideo in December, and following on a initiative from President Jose Mujica the group tried to convince Lugo and if not consider Venezuela to all effects as a full member, while negotiations continue.
President Lugo could not yield to Mercosur pressure even when he favours the access of Venezuela because the conservative groups dominating the Senate threatened with impeachment, and they have the sufficient votes.
Mercosur also decided to send a high level commission of lawmakers from the other full members to try and convince their Paraguayan peers.
"Deputy Minister Roberto Conde will be the Uruguayan representative in the committee to visit Paraguayan lawmakers and try to convince them to vote the incorporation of Venezuela" revealed Almagro.
The Uruguayan official said that during discussions for the long incorporation process, still pending, Venezuela made significant trade and investment concessions "which member countries could not make effective because of the lack of Caracas' full membership".
Brazilian public works corporations have pending contracts of over fifteen billion dollars in Venezuela.
"Now we have agreed that in practical terms Venezuela is integrated to Mercosur, and our idea is to continue advancing until Venezuela obtains full membership" said Almagro and confirming his words the Venezuelan colours have been added to the four full member flags flying outside the Mercosur administrative building in Montevideo.