Trade balance with Argentina is 'definitively positive' says Uruguayan minister
Thursday, January 19th 2012 - 06:00 UTC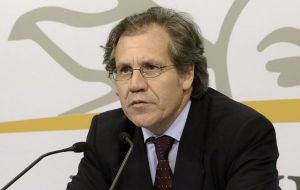 Uruguayan Foreign Minister Luis Almagro said that the trade balance between Uruguay and Argentina is "definitely positive" although admitting some manufacturing sectors face difficulties because of the current Argentine obstructions to imports.
Almagro said that after analyzing the trade difficulties affecting Uruguayan exports and other restrictive measures, bilateral trade with Argentina, 'in spite of all' by the end of 2011 had experienced "an important 17% increase in exports".
"The trade balance is definitely positive, especially if we take into account that current numbers and volumes of exports to Argentina are the highest we've had in the last twenty years"
However Almagro admitted that "to be honest, there are some sectors in the Uruguayan industry, such as textiles and printing that have been specially impacted by the Argentine imports blockade".
"More than complain about identifying threats and risks, we must admit optimum results in our bilateral trade with Argentina", added Almagro who said the Uruguayan government top priority policy is to continue strengthening links with neighbouring countries.
"We give priority to the Argentine market because Uruguay's industrial goods' exports virtually have an only export market and that is Argentina. There is no Plan B for those industries", underlined Almagro.
Goods exports to Argentina in 2011 totalled 588 million dollars, up 17% over 2010.
Nevertheless Almagro revealed that several trade offices from the Uruguayan government are analyzing the possibility of other world markets for Uruguayan manufactured exports.
But "our daily contacts with the Argentines to address trade differences have been successful in helping ease difficulties; we hope to continue with the same scheme this year and further expand our exports to Argentina and the rest of the world, particularly with added value".