Argentine celebrates US recognition of "de facto UK administration of Malvinas"
Saturday, January 21st 2012 - 06:02 UTC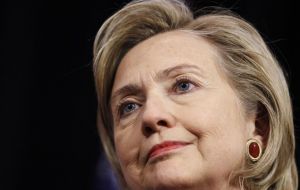 Argentina celebrated with 'enthusiasm' Washington's statement that it recognizes the 'de facto UK administration of the Falklands/Malvinas' but takes no position regarding sovereignty and calls on both sides to dialogue, said Foreign Affairs minister Hector Timerman.
"The Argentine government received with enthusiasm the statement from the Barack Obama administration calling for a peaceful agreement in the Malvinas issue between Argentina and the UK", celebrated Timerman on Friday from Nicaragua where he is on an official visit.
"The non recognition by the US State Department of the British sovereignty pretension over the Islands shows it is necessary for the UK to sit at the negotiation table with our country as promoted by the UN resolutions calling for a bilateral dialogue", added Timerman.
"The whole of Latin America unites to celebrate the US position on the Malvinas Islands", insisted the Argentine official quoted by the government's news agency, Telam.
Earlier in the day the State Department spokesperson was asked if the US take a position on the recent posturing between the United Kingdom and Argentina over the Falklands.
"This is a bilateral issue that needs to be worked out directly between the governments of Argentina and the United Kingdom. We encourage both parties to resolve their differences through dialogue in normal diplomatic channels", said the official statement adding that "we recognize de facto United Kingdom administration of the Islands but take no position regarding sovereignty".
The dispute has escalated since the oil exploration round started in Falklands' waters which was followed by Unasur and Mercosur declarations attempting to limit shipping to the Islands and barring Falklands' flagged vessels from docking in regional ports.