Italian cabinet approves legislation to deregulate services and professions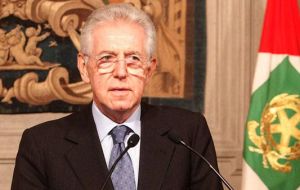 Italy's cabinet on Friday approved legislation to deregulate service sectors and professions in an effort to increase competition, cut costs to consumers and boost chronically weak growth in the Euro zone's third largest economy.
"We have adopted a package of structural reforms to help growth," Prime Minister Mario Monti said after an 8-hour cabinet meeting. "More competition means more chance for young people and less for rents and privilege."
With Italy in the frontline of the Euro zone debt crisis, Monti is keen to convince markets that a sluggish, hidebound economy can be reformed, even if some commentators question the growth-boosting potential of the raft of micro-measures.
He said the reforms, affecting sectors ranging from pharmacies to banks, notaries and taxi drivers, were sure to meet with opposition because "many people prefer the status quo rather than facing new challenges".
Taxi drivers and lawyers have announced strikes against the measures, which are effective immediately but must be approved by parliament within 60 days or they will expire.
The package includes an abolition of minimum fees for all professional services, the issuance of 5,000 new pharmacy licences and the creation of an authority responsible for managing energy and infrastructure networks. In future it will be possible to do part of the apprenticeships needed to join professional guilds at university.
However, ministers did not offer a full breakdown of the measures at a news conference.
Industry Minister Corrado Passera said the government had decided to suspend the so-called "beauty contest" to award new digital television frequencies, a method intended to award frequencies without charging operators for acquiring licences.
It has been heavily criticised for favouring big existing operators, including former Prime Minister Silvio Berlusconi's Mediaset group, Italy's biggest broadcaster.