"Argentina not looking to organize a blockade of the Malvinas", says Timerman
Sunday, January 22nd 2012 - 20:45 UTC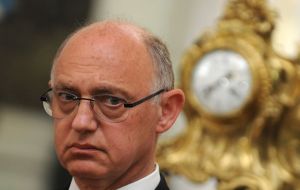 Argentine Foreign Affairs minister Hector Timerman said that Argentina "is not looking to organize a blockade of the Malvinas" but only wants "to counter British interests" based on the Unasur and Mercosur decisions to bar Falklands' flagged vessels from having access to regional ports.

Timerman in a long Sunday interview with the pro-government newspaper Pagina 12 replied to Foreign Secretary William Hague who in a Saturday article in The Times stated that "if Argentina is genuinely interested in progress it should stop these attempts to intimidate a civilian population".

Regarding Hague's call for the Falklands, Britain and Argentina to work together in the South Atlantic neighbourhood in "our common interest", Timerman replied ironically saying "why not discuss sharing the natural resources in the North Sea".

"The South Atlantic and the territories where they (UK) want to work jointly belong to Argentina" said the minister adding that "it's as if I pretended to exercise common rights over the City of Liverpool, as if we sat down to discuss sharing the North Sea natural resources".

Further on Timerman said that "the United Nations does not recognize Malvinas Islanders' right to self determination, or that they should be part of the dialogue" and reiterated the request to the British government to "sit down and negotiate, as it was established by the UN".

"According to the UN, the only ones who can negotiate are Great Britain and Argentina. Only the two countries can speak as litigants and not the Islanders". He added that it was time for the UK to "sit down and negotiate" and remembered that Argentina "is already sitting and waiting".

He went on to warn that "if the most powerful countries do not comply with the UN, then the UN will cease to have any meaning at all".

"Argentina does not recognize de facto administrations. We recognize de jure (legal) administrations, so we have nothing to discuss with them", insisted Timerman.

Finally asked about the US government statement on the Malvinas situation, Timerman said to be glad since "the United States recognized that there is a pending bilateral sovereignty issue between Argentina and the United Kingdom."

"The US position is also a wake-up call to the British government to abandon the militaristic path and accept to sit down and start negotiations", concluded the Argentine Foreign Affairs minister.