Falklands operation to release land from Argentine planted antipersonnel mines
Sunday, January 22nd 2012 - 05:22 UTC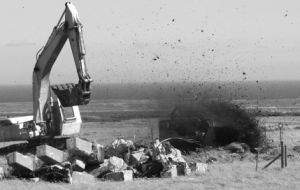 A project to release land from antipersonnel mines planted by the Argentine invaded forces during the 1982 Falklands conflict is "progressing solidly" said Guy Lucas, Chief Executive Officer from BACTEC a group which specializes in explosive ordnance, mine action and bomb disposal.
"The BACTEC (Battle Area Clearance, Training, Equipment and Consultancy) land release project on the Stanley Common has been blessed with good weather and the project is progressing solidly", confirmed CEO Lucas, quoted by the Penguin News.
Operations commenced on January 9 south of the Stanley to Darwin Road in an area bounded by the Stanley Hill water tanks and the Mullet Creek pump house track.
The team arrived in Stanley on January 1, 2012 and commenced refresher training and site orientation over the next week.
The training was concluded with an accreditation process where all systems were tested and a full scale casualty evacuation drill was conducted.
Heading the project Guy Lucas and Andy Frizzell said this week that the operation this season differs quite significantly from what was conducted in the 2009/10 summer.
"This time the aim of the task is not to deliberately clear minefields as was the case in 2009/10. Rather it is to confirm the locations of the four known minefields inside the SCF, proving the area around the minefields is free from mines by processing the land with an armoured mechanical flail system; and subsequently erecting new fences around each of the four minefields within the project area", pointed out Frizzell.
Meanwhile "the remainder of land outside the minefields will be processed by a combination of detector aided visual search, conducted by the Zimbabwean de-miners and a towed detector system".
The aim of this part of the operation is to ensure that no other unexploded ordnance is present before the land is returned to public use.
The project is funded for three months and the team is required to clear a certain minimum of the area, including proving and fencing the four minefields.
The SCF will be realigned towards the end of the project to correspond with the area that has been successfully cleared and released to public use.
It is estimated that the retreating Argentine forces which finally surrendered to the British Task Force sent to recover the invaded Falklands, left tens of fields with over 20.000 mines mainly antipersonnel.(PN)