Foreign airlines in Argentina told to privilege local service-contractors and suppliers
Monday, January 23rd 2012 - 04:12 UTC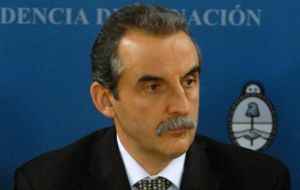 Fifteen foreign airlines operating from Argentina will have to report to the powerful Home Trade Secretary Guillermo Moreno a proposal to reduce their US dollars overseas remittances particularly to suppliers and services contracted overseas. It is estimated that these airlines remit a billion US dollars annually.
The companies represented by the Board of Commercial Airlines representatives in Argentina, Jurca, were told by Moreno that they must find ways to help reach a dollar input/output balance for the sector. According to Jurca president Horacio Oyhanarte it "was a cordial meeting and a reasonable request with the purpose of protecting Argentina from a world recession".
However other sources indicate the meeting was not so polite or gentlemen in spirit: Moreno simply told the foreign airlines they must find ways to increase their purchases in Argentina, helping local suppliers "even if it means having the stewardesses panties made in Argentina".
The Buenos Aires press reports that the airlines are focusing on two possible options to comply with Moreno's request. First would be to pay local suppliers and service contractors directly from the Argentine affiliate thus avoiding involving the transfer of dollars to airline headquarters and back to Buenos Aires. The remittance volume is not considerable but is a way of complying.
Secondly each company will elaborate a time table of dollar transfers overseas from Argentina. Apparently the excuse for individual action instead of in group responds to each company's cost equations which are not necessarily identical.
But apparently what really happened was that most companies preferred the individual path since there was "a serious exchange" of Moreno with American Airlines, Uruguay's Pluna and Spain's Iberia. The three carriers face serious financial problems: American is under administration of Chapter 11; Pluna is highly subsidized by the Uruguayan government and Iberia has similar financial shortcomings plus the fact its experience when it took over Aerolineas Argentinas is still fresh.
However the foreign carriers did agree that it has become a very uncomfortable situation since Argentina is signatory of a Latin American Civil Aviation agreement which calls on members to facilitate overseas transfers since airlines operate in US dollars and revenue and expenses are spread world wide.
Moreno is known for his bullying tactics mercilessly applied in supermarkets and the retail industry to keep prices down; his sponsoring of the manipulation of statistics; forcing local importers to buy Argentine-made and in combination with the Ministry of Industry making the different sectors balance their dollar for dollar trade import/export balance (auto industry, chemicals, pharmaceutical, printers and now apparently the air industry).
He is rated by President Cristina Fernandez "a bit coarse, primitive at times, but one of my most faithful and efficient secretaries".