IMF and Germany can't agree on road map for Euro zone rescue
Monday, January 23rd 2012 - 23:36 UTC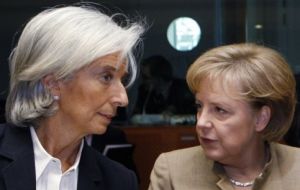 IMF chief Christine Lagarde urged on Monday European governments to increase their financial firewall to prevent Greece's troubles from ensnaring bigger countries like Italy and Spain.
She also called on European leaders to complement the "fiscal compact" they agreed last month with some form of financial risk-sharing, mentioning Euro zone bonds or bills, or a debt redemption fund as possible options.
Berlin opposes those steps and Merkel told a news conference with the Belgian prime minister that it was not the time to debate an increase in the Euro zone's bailout funds - the European Financial Stability Facility (EFSF) and its successor the 500 billion Euros European Stability Mechanism (ESM).
"I don't think it is right to do one new thing then do another, let's get the ESM working," Merkel said, reiterating that Germany was prepared to accelerate the flow of capital into the ESM ahead of its planned introduction in mid-2012.
Italian Prime Minister Mario Monti, who has complained openly that his reform efforts have not been recognized by the markets, is reportedly pushing for the rescue fund to be doubled to 1 trillion Euros. Lagarde stopped short of advocating that, saying: "I am not saying double it."
The more immediate worry is Greece. Without the second bailout from the Euro zone and the IMF, Athens will not be able to pay back 14.5 billion Euros in maturing bonds in March, triggering a messy default that would hurt the entire Euro zone and send tremors beyond the 13-year old single currency bloc.
Euro zone leaders agreed in October that the second bailout would total 130 billion Euros, if private bondholders forgave half of what Greece owes them in nominal terms. But Greek economic prospects have deteriorated since then, which means either Euro zone governments or investors will have to contribute more than thought.