Six out of ten Brazilians belong to the middle class, says report
Monday, January 23rd 2012 - 17:14 UTC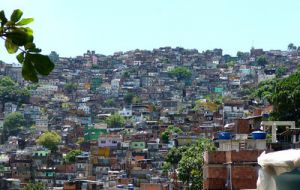 The middle class in Brazil during the last decade expanded to reach 90 million out of a population of almost 200 million, according to paper from consultants Datafolha.
"Brazil is a middle class country, 6 out of 10 Brazilians over 16 years already belong to that group", points out Folha de Sao Paulo based on the Datafolha report.
"The increase in income (of C bracket, included in the middle class), which does not seem much for the Brazilian elite, has represented a real revolution for the dispossessed classes of the country" says economist Marcelo Neri from the internationally prestigious Rio based Getulio Vargas Foundation think-tank.
However "middle class is not homogeneous since is includes very different sub-groups and there is an ample number of indicators on income, education and access to consumer goods".
The poorest Brazilians in the wide spectrum described as middle class are those who are managing to escape from bracket E and are still very vulnerable, points out the report from Datafolha.
Last week the Brazilian ministry to combat hunger announced the launching of a campaign to identify 320.000 indigent families that receive no federal subsidy as part of the overall program to help 17 million Brazilians climb out of extreme poverty.
Likewise the newspaper Estado de Sao Paulo published that there has been a significant drop in the number of Brazilians belonging to the E bracket and for the first time in the country's history, less than 1% of homes belong to that group.