Spain's central banks says economy forecasted to shrink 1.5% in 2012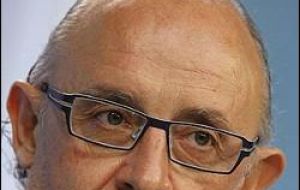 Spain's economy contracted in the fourth quarter and will shrink 1.5% this year, the Bank of Spain estimated, undermining government efforts to cut the budget deficit amid the second recession in two years.
GDP fell 0.3% in the quarter, the most in two years, and grew 0.3% from a year earlier, the Madrid-based Bank of Spain said on Monday in its monthly bulletin.
Economic output may decline this year as unemployment reaches 23.4%, returning to growth of 0.2% in 2013, the central bank said. The forecasts are based on the premise that the government will adopt additional austerity measures to meet its budget goals "strictly."
Spain's new government, in power since Dec. 21, is aiming to reduce the budget deficit by about half this year even as the economy slumps. Spain is already in a recession, Budget Minister Cristobal Montoro said on Jan. 18. Credit is shrinking at a record pace and the country has the highest unemployment in the European Union at 22.9%.
Prime Minister Mariano Rajoy is battling to rein in borrowing costs and convince investors he can repair the public finances and restore growth.
As the economy continues to reel from the collapse of the property boom in 2008 as well as the fallout from the sovereign debt crisis, Spain's government is showing signs of being split over whether it can stick to its pledge to reduce the deficit to 4.4% of GDP this year from about 8% in 2011.
Montoro called on the EU on Sunday to ease the target for this year, even after Deputy Prime Minister Soraya Saenz de Santamaria, who is also the government's spokeswoman, said on Jan. 20 the government is "determined" to meet the goal.
The IMF estimates Spain's economy will contract 1.7% this year, according to an advanced copy of the Washington-based lender's World Economic Outlook.