UK offshore drilling activity in UK waters fell to its lowest since 2003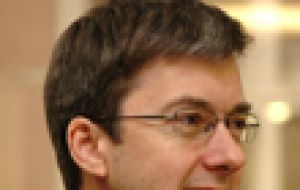 Offshore drilling activity in UK waters fell by a third last year to its lowest level since 2003, going against a trend of increased exploration and appraisal activity in the rest of north-west Europe, according to a new report.
Consultancy Deloitte said controversial tax changes announced last year may have played part in the UK downturn but added they could not be held solely to blame.
On the positive side, the analysis said a number of significant new project approvals showed there was "continued appetite" for investment off the UK.
Deloitte said 49 exploration and appraisal wells were spudded last year on the UK Continental Shelf, 34% fewer than the 74 in 2010.
"The number of wells spudded on the UKCS during 2011 is the lowest level since 2003 and 37% below the average number of wells spudded each year for the last 10 years," Deloitte said in its end of year review of north-west Europe.
The report said the Netherlands, Denmark and Greenland experienced drilling levels either above or equal to the year before. Norway saw the largest increase with a 12% rise on 2010.
Graham Sadler, managing director of Deloitte's Petroleum Services Group, said: "The low activity on the UKCS is not what we would normally expect in a year when the average monthly Brent oil price has remained well above 100 dollars per barrel, however, the downward trend is the result of a number of factors rather than any one single issue."
Sadler said he felt the surprise increase in the supplementary charge on oil and gas producers announced by Chancellor of the Exchequer George Osborne last March did adversely affect business confidence but the full effect of the increase would probably not be seen until the end of this year.
He said: "It is more likely that a delayed reaction to the 2008 recession, current economic and market factors, delays affecting rig availability and the maturity of the UKCS are the key contributing factors."
Speaking of the development approvals, Sadler said: "This is a sign of companies looking to get the best return on their investment by monetising their assets during a period of sustained high oil price. The same trend can be observed in Norway with an increase in the number of development plans granted approval during 2011.