Inflation haunts Argentine government and organized labour relations
Wednesday, January 25th 2012 - 20:17 UTC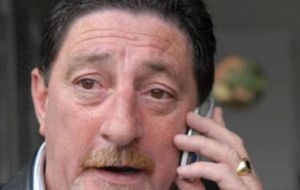 All bridges with the government are not broken, said a representative from Argentina's powerful organized labour adding he expected relations will improve since both union and business leaders "know how far they can go" when it comes to collective bargaining.
The taxi drivers union boss Omar Viviani and close aid of Hugo Moyano head of the organized labour CGT admitted that "we all need to have patience and generate the conditions inside the workers movement to have a closer relation with the government" of President Cristina Fernandez.
"Several union leaders have a fluid dialogue with members of the ministerial cabinet: all bridges with the government are not broken", said Viviani who added that "misunderstandings between Moyano and President Cristina are because they both have strong personalities, but I'm sure they will privilege commitment to Argentina and common sense no matter those ups and downs".
However Viviani cautioned that if workers and business leader don't come to an agreement early in the year, "there could be strikes, but they will not target government".
The administration of Cristina Fernandez has suggested that salary agreements this year shouldn't be higher than 18% (in order to attempt to begin containing inflation), while union leaders believe they can reach agreements in the range of 25% to 30% in line with 'supermarket inflation'.
"Business leaders first say 'I'm not giving you anything.' They have been on the defensive since before the end of the year. But we tell them: 'You will give us at least a 30 or 40% raise.' Both sides are applying pressure on each other. We may have to take action, but we will not be targeting the Government. We will be targeting the business chambers" underlined Viviani.
The union leader explained that "there are different realities among Argentina's many labour sectors, since many of them, such as the auto industry, have expanded dramatically, while others have rather stalled".
"When it comes to fast-growing sectors, it is likely that workers will be able to demand a higher percentage. But others won't. Us unionists know how far we can go," he said.
He also played down Vice president Vice-President Amado Boudou's recent statements, in which he asked union leaders to be "responsible" when it came to making demands during the collective bargaining process.
"Amado knows that in the last eight years the workers' movement never lost control of the situation. Those who were asking for a 40% hike last year were going too far and ended settling for 23 or 24%", he recalled.
"We union leaders know how much and how far we can pull; we are well aware of lines you can cross and lines you do not cross", concluded Viviani.
But in spite of those words the first collective bargaining agreement of the year with the cooking oil workers was reached, (after long deliberations and stoppages), and agreed with a 24% increase, six percentage points above the government's 18% target.
This in practical terms means that the basic salary for a handy man starting to work in the industry stands at 6.200 Pesos (1.500 US dollars) plus benefits and a quarterly 4.600 Pesos bonus (approx 1.000 dollars).
The cooking oil workers union made their demand based on a report from the University of Rosario which establishes that consumer inflation in 2011 was 24%.