UK says Falklands' self determination is a universal right enshrined in UN charter
Wednesday, January 25th 2012 - 23:51 UTC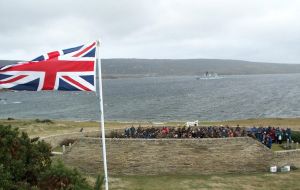 The UK will not negotiate the Falklands/Malvinas Islands sovereignty "until the Islander so wish to" said on Wednesday a spokesperson from the Foreign Office.
This year marks the 30th anniversary of the Falklands conflict when Argentine military invaded the South Atlantic Islands (April 2) to be ousted 74 days later by a British task force, but the exchange between Argentina and the UK has been escalating significantly as the anniversary approaches.
The officer was responding to a question on the Caribbean Community, Caricom, statement agreed last Sunday in the Caribbean island of Grenada which included a 16 points plan, among which a specific support for the Falklands right to self determination.
"To support the principle and the right to self determination for all peoples, including the Falkland Islanders, recognising the historical importance of self-determination in the political development of the Caribbean, and its core status as an internationally agreed principle under the United Nations Charter", said the declaration.
The Caricom move by the Foreign Office is partly seen as an effort to counter the latest support decision for Argentina's Malvinas sovereignty claim from Mercosur members (Argentina, Brazil, Paraguay and Uruguay) agreed last December in Montevideo and which consists in barring Falklands flagged vessels from docking in regional ports.
The Argentine government insists in its sovereignty claim over the Falklands and has adopted a policy of isolating the Islands from South America.
Antigua and Barbuda, Bahamas, Barbados, Belize, Dominica, Grenada, Guyana, Haiti, Jamaica, St Kitts & Nevis, Saint Lucia, Saint Vincent & Grenadines, Surinam, Trinidad-Tobago and Montserrat are members of Caricom.
"The relation of the UK with the Overseas Territories is a modern relation based on partnership, shared values and the right to self determination and if they so wish to retain a link with the UK", pointed out the Foreign Office spokesperson.
And "this is so much valid and true for the Falklands as it is for any other territory".
"The Falkland Islands are British citizens and will continue to be free to decide on their future, both politically and economically, and all have the right to self-determination enshrined in the UN Charter" indicated the FOC spokesperson.
"Self determination is a universal human right and respect for this right is consecrated in the Charter of the UN as one of the main purposes of the organization".
The meeting, held in Grenada, was held under the theme "Prosperity Towards Sustainable Growth" and was attended by the UK Government and members of Caricom. Numerous Caribbean Heads of Government and Ministers attended the meeting, with the UK represented by the Foreign Secretary William Hague and Overseas Territories Minister Jeremy Browne as well as Home Office Minister James Brokenshire and Minister of State for International Development Alan Duncan.