Fears UK economy might have entered a mild recession at the end of 2011
Thursday, January 26th 2012 - 05:28 UTC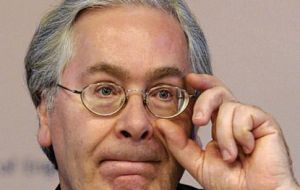 Britain's economy may have entered a mild recession in the last three months of 2011, hampering the government's core policy aim of spurring growth and raising the chances that the Bank of England will inject more cash soon.
Britain's recovery from the 2008/2009 recession - the deepest since the depression-hit 1930s - has already been sluggish, and unemployment has crept up to a 17-year high as the government cuts spending deeply to erase a huge budget deficit.
The economy shrank by 0.2% at the end of 2011, the Office for National Statistics said on Wednesday, a bit more than economists expected as a stagnating services sector failed to offset a slump in manufacturing and construction.
For 2011 as a whole, GDP expanded by 0.9%, less than half the pace recorded in 2010. The fourth-quarter contraction in output follows a 0.25% decline in German GDP, and if UK output falls in the first three months of 2012, Britain will enter its second recession in three years.
The minutes from the Bank of England's January policy meeting showed that the central bank inched closer to pumping more money into the faltering economy as risks from the global economy still loomed large, despite some improvements.
The central bank voted unanimously to keep the total volume of quantitative easing asset purchases steady at 275 billion pounds and interest rates at their record low of 0.5%.
"For some members, the risks of undershooting the (inflation) target meant that a further expansion of asset purchases was likely to be required," the minutes said in a slightly more assertive tone than last month.
But the minutes also noted that the European Central Bank's actions to provide unlimited long-term liquidity had helped to moderate the most serious risks.
BoE Governor Mervyn King said that Britain faced an "arduous, long and uneven" recovery, and that the central bank had scope for another cash boost, if needed, as inflation is falling.
The drop in GDP also increases the chance that the Bank of England will approve a further 50 billion pounds of quantitative easing in February, once the current 75 billion pounds of purchases started in October are complete.