Soros says German-driven austerity plans could splinter the European Union
Thursday, January 26th 2012 - 19:12 UTC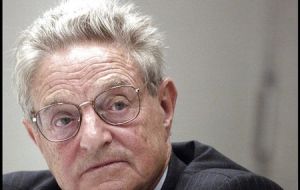 Billionaire investor George Soros said that German-driven austerity plans in Europe risk creating tensions that could splinter the region as it struggles with a debt crisis entering its third year.
"Germany is acting as a task master, imposing fiscal discipline" Soros told reporters at the World Economic Forum in Davos, Switzerland Thursday. "But that could create tensions that could destroy the European Union".
Investors have become less upbeat about the Euro region, according to a Bloomberg Global Poll today. For the first time, a majority – 56% -- say one or more nations will leave the single currency in the next 12 months. Meanwhile, Greece is trying to complete a deal with private bondholders on a debt- relief plan before a summit of European leaders on Jan. 30.
"Greece may pose a problem if it in fact defaults," Soros said. "Defaulting by itself doesn't necessarily mean they will leave the Euro. But the need to at least reach a primary surplus may force Greece out of the Euro."
Soros also said there is a "big difference between Greece and Italy," with the latter doing "really quite well."
As Italian Prime Minister Mario Monti has stated, "there needs to be some reward," Soros said. "There need to be some benefits for Italy and that would strengthen the Monti government."
Monti has pushed through a 30 billion-Euro austerity plan and a package designed to boost growth in the past two months. Italian borrowing costs have fallen since he came to power in November, and he said this week his measures have been "appreciated" by European colleagues.
"You must impose strict fiscal discipline on deficit countries, but then you must find some stimulus to get out of the deflationary spiral," Soros said. "Structural reforms alone won't do it."
He said Eurobonds will be needed to provide additional economic support and that while measures by the European Central Bank "relieved the liquidity problems of European banks," they "didn't cure the financing disadvantages highly indebted countries suffer."
"Stimulus has to come from the EU" Soros said. "This will require Eurobonds one way or the other because half a solution isn't enough," he said.