Study on dietary habits (what and where) of Atlantic sharks
Monday, January 30th 2012 - 22:24 UTC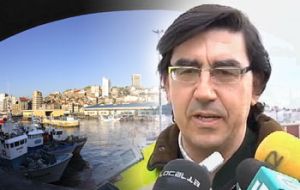 A team of scientists of Chelonia Association and the University of Marseille (France) chose the port of Vigo to initiate a study on dietary habits and intake areas of Atlantic sharks.
As a world leader in shark catches of shortfin mako, blue shark and dogfish species, with discharges close to 3.00 tonnes in 2011, researchers estimate that in Vigo they can find enough raw materials (stomachs) from these resources.
This was said by Ignacio Lopez-Chaves, president of the Vigo Port Authority (APV), who made the announcement accompanied by the Head of Environment Division of the Port, Carlos Botana.
Scientists plan to collect shark stomachs two or three times a year in the Spanish port and send them to the University of Marseille, where the studies will be conducted.
Lopez-Chaves and Botana remarked that this is the first study carried out in depth on these features of Atlantic sharks. They stressed that the main objective of the initiative is to know "what sharks eat and where they eat".
APV president mentioned the commitment of the entity with the completion of seven projects related to the reduction of fishing discards and the use and exploitation of fish waste (viscera, skin and eyes) for pharmaceutical, cosmetics or industrial use.
Both authorities claimed that the recovery of waste has reduced by 70% the organic waste generated in the port at auction in recent years.
"Vigo is a great venue for research and monitoring of world fisheries resources through these research centres and oceanographic research vessels based in this port" said Lopez Chaves. (FIS/MP).-