Brazil/Arab world trade soared more than 28% in 2011, reaching 25.13bn dollars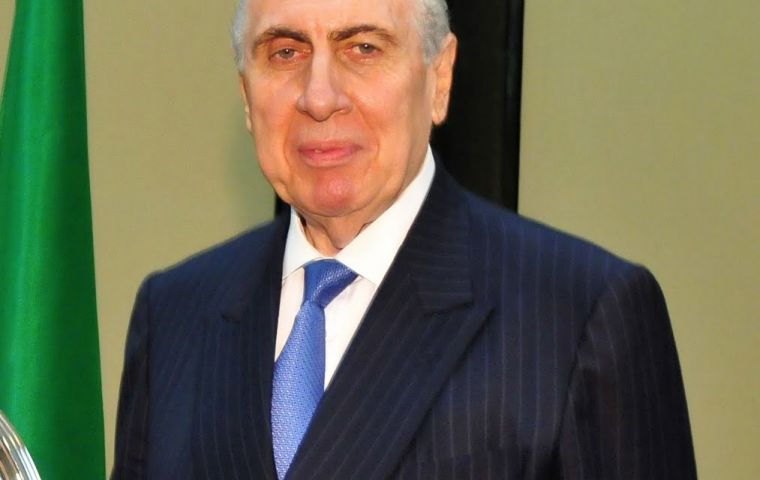 Brazil's trade with the Arab world soared more than 28% in 2011 to reach 25.13 billion dollars and is expected to grow a further 15%t this year, the Arab Brazilian Chamber of Commerce said on Tuesday.
Brazil registered a trade surplus of 5.15 billion with the 22 countries making up the Arab League last year, as its exports totalled 15.13 billion, up 20.3% compared with 2010, while its imports reached 9.98 billion, up 43.36%.
Salim Taufic Schahin, the chamber's president, said that despite the global economic uncertainty, "Prospects for 2012 are optimistic and our projection is that we will have an increase of 10 to 15%" over the 2011 figure.
He pointed out that as a bloc, the Arab League ranks among the world's 10 top economies.
Major export items last year were sugar with sales worth 4.62 billion, up 19.81%; meat products with 3.55 billion in sales, up 9.89%; mining products with 2.97 billion, up 34.82%; and grains with 1.17 billion dollars, up 96.83%.
Michel Alaby, the chamber's chief executive officer, pointed to the great potential for boosting Brazil's trade ties with the region, particularly exports of farm products, construction equipment and machinery.
Industry and Foreign Trade Minister Fernando Pimentel was due to lead a mission sponsored by ApexBrasil -- the country's trade and investment promotion agency -- to the United Arab Emirates (UAE) and Saudi Arabia from February 12 to 16.
Saudi Arabia was the top destination for Brazilian exports last year with 3.48 billion, up 12.19% over 2010, followed by Egypt, with 2.62bn, up 33.37%, and the UAE with 2.17bn, up 16.94%.
Schahin hailed former Brazilian president Lula da Silva for the "extraordinary job" he did in forging closer ties with Arab countries, which has translated into booming trade exchanges. He said Lula da Silva's successor, President Dilma Rousseff, was taking a slightly different posture, by giving more importance to the issue of human rights.
But he said Pimentel told him that Rousseff was keen to further boost ties with the Arab world. Schahin also noted Arab-Brazilians, who number 12 million out of Brazil's total population of 190 million, have a key role to play in expanding the relationship in various sectors, including tourism, health and culture.
The chamber, which this year marks its 60th anniversary, said it was encouraging Brazilian small and medium enterprises to export to Arab world.