Brazilian company signs agreement to recover the defunct Cuban sugar industry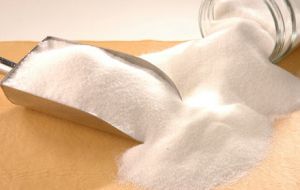 Brazilian builder Odebrecht plans to produce sugar in Cuba, the company said on Monday as incentives for foreign investment in the Castro family's regime raise hopes of a recovery in the once-booming sector after decades of decline.
News of the project came on the day Brazil's President Dilma Rousseff begins an official visit to the country, which has been under the rule of Fidel and Raul Castro.
Odebrecht will sign a "contract of productive administration" with Cuba's state sugar company Grupo de Administracion Empresarial del Azucar to operate the 5 de Septiembre mill in Cienfuegos province on the south coast.
"The agreement for a period of 10 years aims for an incremental increase in the production of sugar and crushing capacity and help with an overhaul" of the sector, Odebrecht said in an email.
The project will finally open the capital-starved Cuban sugar industry to foreign inflows after years of failed attempts by overseas investors to gain a foothold in the sector nationalized several years after the 1959 revolution.

Cuba's sugar production has fallen from a peak of 8 million tons in 1970 to just 1.2 million tons in the last harvest. The country was once the world's top sugar supplier.
Brazil is not only the world's top sugar producer but a pioneer in cane-derived ethanol, with flex-fuel technology fitted to almost all new cars sold in the country enabling them to run on ethanol or gasoline or any mix of both.
Odebrecht is also carrying out work estimated at 800 million dollars to modernize the container port at Mariel, west of Havana. The project, largely financed by Brazil's development bank BNDES, is seen as vital for commerce should the United States lift its trade embargo with the island.
Cuba has allowed foreign investment for more than a decade to develop other strategic industries including tourism and nickel and more recently, oil, with a consortium led by Spain's Repsol to explore Cuban waters in the Gulf of Mexico.