Dilma Rousseff arrives in Havana to advance trade and investment relations
Tuesday, January 31st 2012 - 05:39 UTC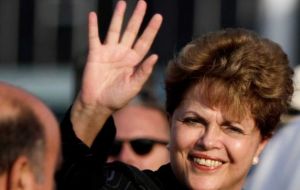 Brazil's President Dilma Rousseff arrived Monday to Cuba for a two-day visit to discuss bilateral economic cooperation and human rights. From Cuba Rousseff will travel on to Haiti as she aims to continue the regional diplomatic outreach of her popular predecessor, Lula da Silva.
After being welcomed by Cuban Foreign Minister Bruno Rodriguez, Rousseff swiftly left Havana airport without speaking to reporters. The Brazilian leader hopes to "increase dialogue and deepen the bilateral cooperation, with an emphasis on the economic agenda," her foreign ministry said ahead of the trip.
The two nations had record economic exchanges in 2011 of 642 million dollars, making Brazil the second largest Latin American trading partner for Cuba, after Venezuela. This included 550 million in Brazilian exports to the island, making an unbalanced trade situation which both sides want to change.
The Brazilian president was due to meet President Raul Castro at the Palace of the Revolution on Tuesday.
A Brazilian official said the issue of human rights may be on the agenda of Rousseff's talks, including the case of Cuban opposition blogger Yoani Sanchez who has been granted a visa by Brasilia.
But Sanchez, who hopes to attend the premiere of a documentary by Brazilian director Dado Galvao on February 10, must obtain permission to leave the Castro family-ruled island, which has been denied.
Sanchez, known worldwide for her award-winning blog "Generation Y," won the 2008 Ortega y Gasset prize for online journalism from Madrid daily El Pais.
Rousseff has no plan to meet with dissidents, according to her entourage.
Although not on the official program, a meeting with former president Fidel Castro, 85, was seen as likely, in view of the Cuban revolutionary leader's close relations with Lula da Silva and the shared history of Rousseff and Fidel Castro as guerrillas. She is Brazil's first female president.
On Wednesday Rousseff leaves for Haiti, where Brazil leads a mission of several thousand UN peacekeepers.
The Brazilian government announced Monday that it had allocated more than $500,000 in fresh aid for the more than 4,000 Haitian immigrants who are being granted permanent residence visas.
The northern Brazilian states of Acre and Amazonas which border Peru have seen an influx of undocumented Haitians since the devastating earthquake in their homeland two years ago.