EU agrees permanent rescue fund and 25 member back German budget discipline pact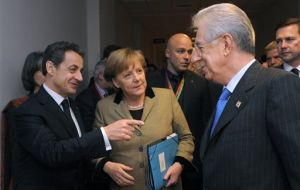 European leaders agreed on a permanent rescue fund for the Euro zone on Monday and 25 out of 27 EU states backed a German-inspired pact for stricter budget discipline, but they struggled to reconcile fiscal austerity with economic growth.
Only Britain and the Czech Republic refused to sign a fiscal compact in March that will impose quasi-automatic sanctions on countries that breach European Union budget deficit limits and pledging to enact balanced budget rules in national law.
Officially, the half-day summit focused mainly on a strategy to revive growth and create jobs at a time when governments across Europe have to cut public spending and raise taxes to tackle mountains of debt.
But differences over the limits of austerity and Greece's unfinished debt restructuring negotiations hampered efforts to send a more optimistic message that Europe is getting on top of its debt crisis.
French President Nicolas Sarkozy told a news conference he expected a final agreement on reducing Greece's debt to private bondholders "in the next few days" and believed that European institutions - a clear reference to the European Central Bank - would decide independently to help meet a funding gap.
EU Council President Herman Van Rompuy said a deal was needed this week in order for it to be finalised in time to avert a Greek default in mid-March when it faces huge bond repayments.
Asked about a German proposal to place Greek public finances under the control of a European commissar, Sarkozy said: "That there should be supervision is quite normal, but there can be no question of any country being put under stewardship".
The leaders agreed that a 500-billion-Euro European Stability Mechanism will enter into force in July, a year earlier than planned, to back heavily indebted states. But Europe is already under pressure from the United States, China, the International Monetary Fund and some of its own members to increase the size of the financial firewall.