Falklands' government advances in options for a proposed new port facility
Tuesday, January 31st 2012 - 13:55 UTC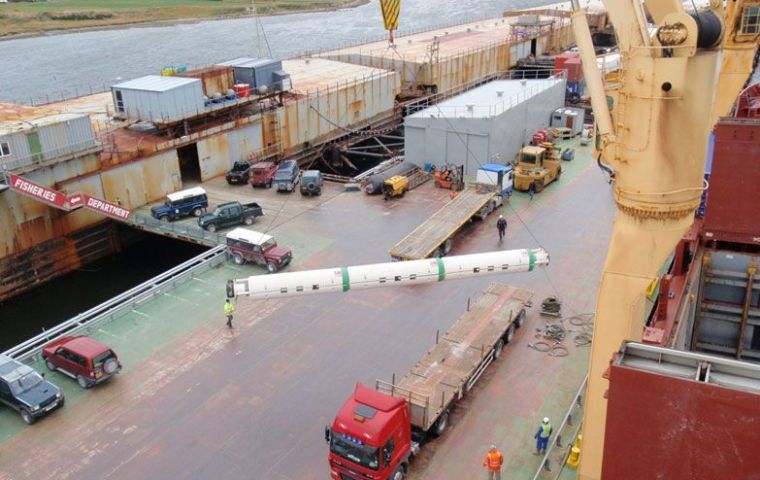 A paper relating to further work on options for the proposed new port facility for the Falkland Islands was presented to the latest Executive Council Meeting by the Falkland Islands Government Projects Director.
A press release from the Projects Director noted that the provision of additional port facilities within the Falkland Islands has long been considered, including a number of consultative phases by various bodies and organisations.
In December 2011, ExCo was presented with a number of options to consider with regard to moving the planning phase of this project forward within this calendar year. ExCo's recommendations included:
Approving the inclusion of Mare Harbour, the MPA port facility, as a potential site,
Agreeing the potential joint use of Mare Harbour on an incremental basis in order to prove both the potential shared use of the facility and its suitability for private industry traffic,
Agreeing that Port Harriet and Ordnance Point should no longer be considered as potential sites,
Approving a process of industry and public consultation in respect of the final sites proposed, those being Mare Harbour, Stanley Harbour (FIPASS) and Navy Point (Port William).
Agreeing that technical surveys of un-established sites (Port William) should proceed concurrently with public consultation,
Resolving to review the list of potential port sites on receipt of responses from pubic consultation prior to approving further expenditure"
As per the ExCo recommendation, the next steps within the project are for the FIG Projects Director to undertake a joint industry and public consultation process during late February. FIG is aware that both industry and the public have been widely consulted throughout the initial stages of the project. There has, however, been significant progress of late, and it is these developments and new pieces of information that FIG are keen to share with both industry and the community and to gain an insight and thoughts on future plans or need.
The FIG Projects Director is very keen to draw together as much industry and public opinion throughout this process as possible in order to prepare a report to ExCo. The Projects Director welcomes approaches from any interested party regarding;
- a feeling on how the current facilities are meeting the present demands of various industries; how current facilities may cope with any future demands; - the requirements of the proposed port development and a view on the various proposed locations.
- FIG will release a detailed industry and public consultation plan shortly.