Argentina new imports' restrictions come into effect; claims from Mercosur
Wednesday, February 1st 2012 - 16:08 UTC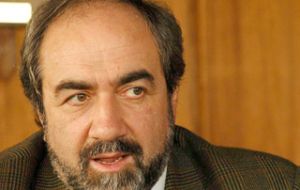 Argentina's controversial new import restrictions came into effect on Wednesday as part of the legislation on the trading sector which gives the government bureaucracy more powers to control and restrict imports.
The new legislation comes into effect after the AFIP tax agency announced the implementation of the Advanced Sworn Statement on Imports (DJAI) as part of a new series of measures aimed at having a larger control on imports and not endanger Argentina' trade surplus.
Some fear the new requirements are intended to stop the imports of foreign goods.
The new restrictions have triggered complaints from Argentine business and industry and also from regional partners.
Dilma Rousseff administration has evidenced their discontent for the new legislation on the trading sector with Brazil's Industry Minister Fernando Pimentel remarking that Argentina's trading policies as well import bans and blocks have been "a permanent problem" for the giant neighbour and Argentina's main trade partner.
Only a few days ago and in anticipation of February first, Pimentel assured that "Argentina has been a permanent problem. Politically we're in good terms, but when it comes to the economy, it's hard to deal with them."
Likewise, the head of the Brazilian National Industry Confederation, Soraya Saavedra Rosar, had expressed his "concern" over the new Argentine trade blocks and complained about a "lack of predictability" in the country.
Pimentel commented that Brazil has a trade surplus with Argentina "of over 6 billion dollars" and assured that they would not engage in negotiations until the new trade measures go into effect.
Another actor that has raised its voice was neighbouring Uruguay as the chairman of the Uruguayan Chamber of Industry, Washington Burghi, warned that Argentina's decision to restrict imports could be "the beginning of the end" for the Mercosur bloc.
"I understand that every country has the right to defend the work of their people. But governments also have the obligation to respect the Mercosur agreements," Burghi complained.
Likewise, Burghi said that the latest measure "affects the Uruguayan food and textile sectors," adding that "he doesn't understand why Argentine and Brazilian products have the right to be placed on our supermarket shelves and we face all sorts of limitations."
Furthermore, Burghi warned that Uruguay "should also look after the work of their citizens, and that could mean the beginning of the end for the Mercosur, since agreements are not being honoured".
"The Uruguayan government is aware of the recent restrictions," he said, and assured that the business sector is "still analyzing the situation because small countries such as ours must always be open for negotiation."
The conflict with the Uruguayan industry began after the Argentine Ministry of Industry decided to include over 200 imported products in the list of goods that need a special permit to enter Argentina. The Cristina Fernandez administration has always argued that the measures are justified because they help "protect national production and Argentine jobs".