Falklands' second exploration round takes off south of the Islands
Wednesday, February 1st 2012 - 14:43 UTC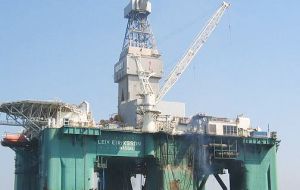 A new round of Falkland Islands oil exploration began this week when London AIM listed Borders & Southern Petroleum plc announced that their first exploration well, located approximately 140 kilometres south of the Islands, was spudded on 31st January 2012.
The 61/17-1 probe is the first of a two-well program in Borders & Southern's wholly-owned Production Licence 018 being drilled by Ocean Rig's ultra-deepwater semi-submersible Leiv Eiriksson.
The well is designed to test the Darwin East prospect, a fault/dip closed structure with a Lower Cretaceous sandstone reservoir target. The well will investigate geophysical attributes that include a flat spot, amplitude conformance to structure and an AVO anomaly. It is anticipated that operations will take about 45 days.
The explorer is targeting estimated proven and probable recoverable resources of 300 million barrels of oil at the target, though its corresponding estimate for the entire Darwin structure is 760 million barrels.
Borders & Southern has operator-ship of five production licences covering 20,000 square kilometres in the largely unexplored South Falklands basin.
Darwin is the first of two prospects identified for drilling in the basin, with the second, Stebbing, to follow. A previous well test in the area proved unsuccessful.
The company is hoping to emulate the success of fellow UK player Rockhopper Exploration with the landmark Sea Lion discovery north of the Falklands though it said the geology of the South Falklands basin is "completely different".

Rather, it bears similarities to the contiguous Malvinas and Magallanes basins to the west, where petroleum systems are proven with the latter having yielded discoveries of about 6 million barrels of oil equivalent according to the company.
It said "regional geological data helps provide a high degree of confidence on the occurrence of a good oil-prone source rock" in the area of the drilling campaign.
Meanwhile, Falkland Oil & Gas Ltd has secured the third and fourth drilling slots for the Leiv Eiriksson and intends to drill its Loligo prospect in the northern licence area in May, targeting prospective resources of 4.7 billion barrels.
The second probe is likely to be on the Scotia prospect, which is assessed to have prospective resources of 1.06 billion barrels.
B&S has completed extensive regional and licence specific technical studies. Within its acreage the company has acquired 2,862 km of 2D seismic data and 1,492 sq km of 3D seismic data, significantly exceeding the licence obligations. The company has an outstanding work program obligation of one exploration well. This needs to be drilled before November 2012.