Prince William leaves for the Falklands Wednesday night from Brize Norton
Wednesday, February 1st 2012 - 16:05 UTC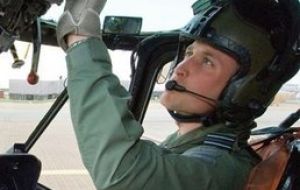 The British government confirmed that Prince William begins this Wednesday his six week deployment in the disputed Falkland Islands as a helicopter pilot when he flies out from RAF Brize Norton in Oxfordshire tonight.
The deployment of Prince William is earlier than expected, and comes following Tuesday's announcement that the Royal Navy will be sending one of its most advanced warships, HMS Dauntless, to the Falklands in mid March, which triggered an immediate reaction from the Argentine Foreign Affairs ministry.
Prince William will be crewing one of two search-and-rescue helicopters on call 24 hours a day for missions flying out of the large Mount Pleasant complex, a 45 minutes drive from Port Stanley and which the British military mounted following the Falklands' conflict when the Argentine invaded the Islands 2 April 1982.
Argentine Foreign Minister Hector Timerman slammed Prince William's visit, saying that the heir to the British throne would be arriving to the Malvinas Islands as a member of the armed forces of his country dressing the uniform of "conqueror and not with the wisdom of a statesman that works for peace and dialogue among nations".
However, the British Ministry of Defence stressed that the mission was routine as the Royal Navy press officer rejected suggestions the decision to send the ultra-modern destroyer HMS Dauntless to the region represented an escalation of the UK's position.
Referring to the deployment of HMS Dauntless and William's tour of duty as an RAF search and rescue pilot, Argentine minister Timerman last night expressed his rejection to "the British attempt to militarize the conflict'".
Last year when the original announcement many Argentine government officials considered William's deployment as a provocative act that shows Britain's military presence in a zone of peace where there is no armed conflict.
"The Royal Navy has had a continuous presence in the South Atlantic for many years. The deployment of HMS Dauntless to the South Atlantic has been long planned: it is entirely routine and replaces another ship on patrol", UK's Royal Navy Senior Press Office Simon Smith stressed.
In addition to the deployment of HMS Dauntless, Jeremy Browne, the British Foreign Office minister responsible for relations with Latin America and Overseas Territories announced he will visit the Islands in June.
"I'm going to coincide with the conclusion of the Falklands conflict. I will be going in June for the 30th anniversary" said Minister Browne.
"I hope Argentines will see it for what it is, which is a recognition of the valour and sacrifice of British soldiers and the Islanders in the liberation of the islands 30 years ago and also a wider commemoration of the sacrifice made more generally, including by Argentines", he said.