Spanair files for voluntary bankruptcy; strands tens of thousands of passengers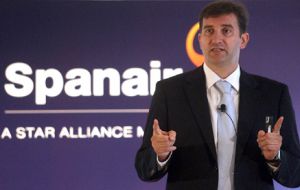 Spanish carrier Spanair filed for voluntary bankruptcy Monday, officials said, three days after abruptly stopping all flights and stranding tens of thousands of passengers.
The airline declared liabilities of more than 300 million Euros in a filing to be heard by a Barcelona commercial court, the High Court of Catalonia said in a statement.
Spanair is expected to lodge a labour force adjustment plan affecting all or some of its 2.400 staff, a union official said. Companies must lodge such plans before laying off employees. A total 4.000 jobs are estimated to depend on the airline when including contractors.
At least 37.000 passengers' flights had so far been affected by Spanair's decision to ground all operations late Friday, a Spanair spokesman said Monday.
Long lines of grounded airline passengers formed at airline counters across the country over the weekend. It is the third Spanish airline to go under during the past five years after Air Madrid in 2006 and Air Comet in 2009.
The airline focused on domestic flights in Spain and medium-haul routes to other destinations in Europe and North Africa where it faced stiff competition from low-cost carriers such as Ryanair and Easyjet.
"The demise of Spanair is the result of bad management on the one hand but most of all on the problem it had with short-haul flights in Spain and those to Europe and North Africa," said Inversis analyst Julian Coca.
"We are going to have a concentration which will see less carriers operating on the same routes, maybe half in the medium term."
Spanair, which was founded in 1986, had tried to survive by a tie-up with Qatar Airways which fell through.
Spanair chairman Ferran Soriano told Spanish television that the Catalonia regional government, which owns 24% of the carrier and had loaned it 140 million Euros since 2009, would not continue investing in the airline at a time of heavy public spending cuts.
"The most sensible and safe decision was to close down operations," he said.
The Spanish government has said it is taking action against Spanair for breaching rules on continuity of services and passengers' rights in the course of its sudden shutdown, and may fine it up to 9.0 million Euros.
Spanair's former owner, Scandinavian airline SAS, says it retains a 10% share in the Spanish carrier and the bankruptcy will hit its own results to the tune of 191 million Euros.
A statement on Spanair's Internet site --http://www.spanair.com/ -- told passengers how to apply for refunds or rearrange flights and said it had shut down operations because of "exceptional circumstances".