France bags 10.4bn deal to supply 126 Rafale combat planes to Indian Air Force
Thursday, February 2nd 2012 - 22:15 UTC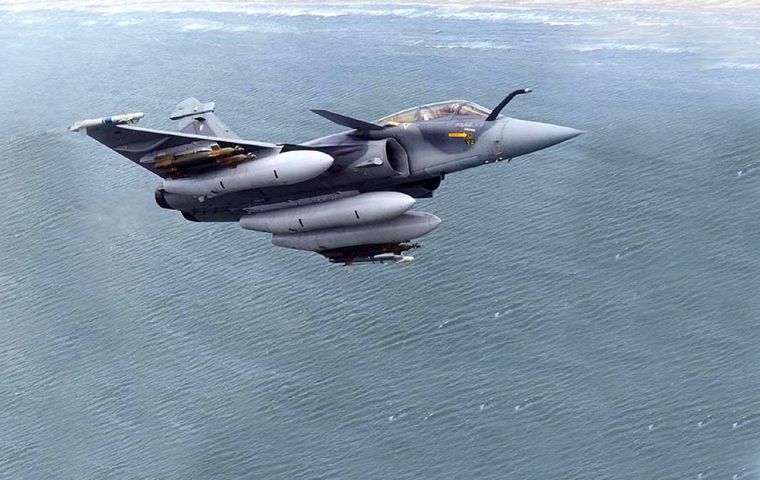 The French Dassault Rafale has won the 10.4 billion dollars deal to supply 126 Medium Multi-Role Combat Aircraft (MMRCA) to the Indian Air Force (IAF), India's biggest arms deal which is also the world's largest in recent years in terms of value as the contract is likely to go up to 20 billion.
Rafale quoted the lowest bid (called L1 in technical jargon) and edged out five other tough competitors in the process: Russia's MiG 35, Lockheed Martin's F 16 Falcon, Boeing's F 18 Hornet, Sweden's Saab Gripen and Eurofighter Typhoon.
India will buy first 18 aircraft off-the-shelf while the rest of 108 will be built in India, a process that will include technology transfers. Rafale won the cut-throat competition -- for which the countries involved mobilized their diplomacy to the hilt -- as it was found to be similar to the French Mirage 2000 fighter jet, which IAF has been operating for well over a decade.
Rafale's closest competitor for the deal was the Eurofighter Typhoon whose bid was backed by four partner nations - Germany, Spain, Italy and the United Kingdom.
Rafale fighters will give a major boost to the India's defence and will replace obsolete Soviet-era combat planes. The deal also gives a shot in the arm of the French company as it had not bagged any foreign orders after over a decade of trying. For the French aviation industry, this sale is a big deal.
The Rafale is a twin-engine, delta-wing jet which was first introduced in 2000 and since then is produced both for land-based use with the French Air Force and for carrier-based operations with the French Navy. Its top speed is 2.100 kilometres per hour and range is 3.700 kilometres. It can carry air-to-air, air-to-ground and anti-submarine missiles with a total payload capacity of 9 tons. Its length is 15.27 meters and wingspan 10.80 meters.
Rafale, a multi-role nuclear capable fighter aircraft that has been successfully proven in combat in Iraq, Afghanistan and recently in Libya, has tri-service variants. French Air Force, Navy and Army are currently using these three variants. It will be a game changer for the Indian Navy as its strategic and tactical reach in the Indian Ocean region would be phenomenally increased, a welcome thing at a time when China is massively increasing its presence in India's maritime near-abroad.
Rafale will have to abide by the Indian defence ministry's offset clause in the tender, included under the Defence Procurement Procedure (DPP) of 2006 that requires the winner of the tender to reinvest 50% of the deal amount in the Indian defence industry.