Obama administration unveils "Buffett rule" to tax all millionaires a minimum 30%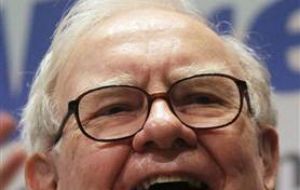 The US administration of President Barack Obama formally unveiled on Wednesday the "Buffett rule", legislation to ensure that all millionaires would pay a minimum federal tax of 30%.
The legislation comes as the relatively low tax rate for some high earners –like investor Warren Buffett and GOP presidential candidate Mitt Romney– takes center stage in both the policy and political arenas in Washington.
President Obama and congressional Democrats have made enactment of the "Buffett Rule," which they say would force high earners pay a higher tax rate than their secretaries, a central part of their re-election messages. They argue it's both a matter of fairness and the best way to reduce the staggering deficit.
"These middle class families are really struggling to get by and then they find out that some people with really extremely high incomes are actually paying lower all-in federal tax rate than they are. That's, to them, just not common sense," said Sen. Sheldon Whitehouse, D-Rhode Island, and author of the bill. "Americans deserve a straight deal and right now they are not getting one from our tax system."
A key reason Buffett and Romney pay a lower tax rates is because most of their income comes from investments. Taxes on capital gains from investments are capped at 15%.
The legislation would apply to people earning more than 1 million dollars a year, be it from salaries or investments or both. They could still take some deductions – such as for charitable giving – but after all is said and done, they must pay an effective tax rate of at least 30% of their income as federal taxes.
Whitehouse says his legislation would raise billions for the government but there is no official estimate from the Congressional Budget Office about how much it would raise.
Most Republican strongly oppose raising the capital gains tax because they argue taxing investments at a higher rate will stifle job creation and hurt the economy.
Senate Democratic leaders have not decided when they will push for a vote on the legislation, which is called the "Paying a Fair Share Act of 2012." They want to consider first a handful of priority bills such as job creation measures, including a highway funding bill, the FAA funding bill, and postal reform bill, according to aides.
It is estimated that almost 94.500 contributors, a fourth of all US millionaires, pay a lower tax rate than most middle class income earners, according to US congress sources.
Billionaire Buffett who has made a fortune on capital gains and investment earnings pays a 15% tax while his secretary's rate ranges from 10% to 35%. Debbie Bosanek was invited to Congress by the First Lady when President Obama delivered his State of the Union a week ago.