Prince William in the Falklands; begins briefings period and familiarization flight
Thursday, February 2nd 2012 - 22:47 UTC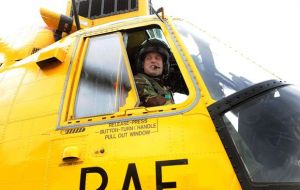 UK's Prince William arrived on Thursday to the Falkland Islands amid simmering tensions between Britain and Argentina over the disputed South Atlantic Islands and in the year of the 30th anniversary of the Falklands conflict.
William's arrival, ahead of a tour of duty as a Royal Air Force search and rescue pilot, comes as the Royal Navy prepares to send one of its most advanced new warships to the area.
The heir to the British throne will be crewing one of two search-and-rescue helicopters on call 24 hours a day for missions flying out of a large British military compound, 45 minutes from Port Stanley, the Islands' capital.
A UK Ministry of Defence spokesman revealed that the Prince "will shortly take up SAR duties post a period of briefings and a familiarisation flight".
Argentine Foreign Affairs Minister Héctor Timerman slammed Prince William's visit, saying it is an act of provocation as the prince "will be wearing the uniform of a conqueror when he deploys".
However, the British Ministry of Defence stressed that the six weeks mission was routine for the RAF search and rescue teams. Likewise the Royal Navy press officer rejected suggestions the decision to send the ultra-modern destroyer HMS Dauntless to the region represented an escalation of the UK's position.
Referring to the deployment of HMS Dauntless and William's tour of duty as an RAF search and rescue pilot, Timerman accused London of "attempting to militarize the conflict'".
Likewise, the Argentine Foreign Ministry released a statement indicating that "Governments should avoid the temptation of falling into a discourse ... that aims to distract public attention from belt-tightening economic policies".
Prince William's six-week tour of duty means he should be back in the UK before April 2, the date of the Argentine invasion of the Falklands in 1982 and obviously of June 14, Liberation Day by a British Task Force, in which his uncle Prince Andrew was action as a helicopter pilot.