Aerolíneas receives a daily government support of over 2 million dollars
Friday, February 3rd 2012 - 18:01 UTC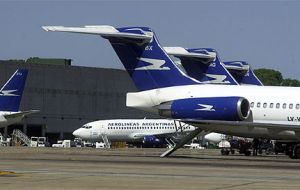 Argentina's flag carrier ended the last twelve months with a drop in the number of passengers transported, totalling 6.017.886, which is 5.97% less than in 2010. However income from the sale of tickets reached 1.334 billion dollars, which is 14% higher, according to the latest numbers available.
Likewise Aerolineas Argentina which has been re-nationalized, received during 2011 a total of 757 million dollars support from the Treasury, which works pout at over 2 million dollars per day of subsidy to keep the carrier in the air.
The balance sheet papers were published by Buenos Aires daily La Nacion which obtained the information appealing to Argentina's equivalent of Freedom of Information Act which, on founded request releases information on government finances and companies.
The report points out that the fall in ticket sales could be attributed to the dramatic cancellation of flights to Patagonia during the ash clouds period, spewing from a Chilean volcano in the Andes, and to the global recession. However the report also recalls that during the 2009 recession the sale of tickets increased 3%.
Regarding income the report indicates that given Argentine inflation in 2011 (23%) and the depreciation of the Argentine Peso (8.1%), the total gross income remained almost virtually stalled in real terms during 2011.
The higher Treasury contribution is attributed to the increase in the number of aircraft and contracting of more staff. Last year Aerolineas jumped from 57 to 81 operational aircraft but also an 11% plus in staff which now total 9.612. An audit from Argentina' National Auditing office dating back to 2009 points out that 45% of government support funds is invested in salaries, social security contributions and related issues.
The balance sheet from 2010 does not report income accrued by the two main officers managing the company: Mariano Recalde, president and Eduardo De Pedto, Vice-president. The two political appointees were named by President Cristina Fernandez and belong to her son Maximo Kirchner's militant group La Campora.
The only data available shows that Recalde was paid a net income of 54.121 Pesos per month (approximately 12.500 dollars) for his job as Aerolineas and Austral airlines director. According to La Nacion, Recalde lacks air industry experience and his last job was as advisor to his father, lawmaker Hector Recalde, from June 2006 to July 2009.
The second highest paid job is De Pedro's with approximately 10.5000 dollars per month for co-managing the two government airlines. With no air industry experience, in his personal sworn statement, De Pedro says he holds a stake in country club, a spa and a farm.