Argentina eliminates tax breaks for big oil and gas companies
Saturday, February 4th 2012 - 05:25 UTC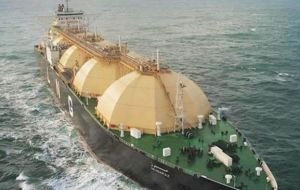 Argentina has cut 461 million dollars in annual tax breaks granted as investment incentives to big oil companies operating in the country, the government said on Friday, as part of a wider austerity program.
Argentina is preparing for a challenging year as Europe's debt crisis and the sluggish world economy bite into the finances of commodities-producing countries in South America.
The government of President Cristina Fernandez blames private sector oil companies for the country's waning crude production. The decision affects companies such as Panamerican Energy (PAE), owned by BP and local firm Bridas; YPF, the local unit of Spain's Repsol ; China's Sinopec; and Brazil's Petrobras.
"The suspension will permit the state to save 2 billion Pesos (461 million dollars) per year," said a statement from Argentina's Planning Ministry. "This decision is based in the modifications of the market's conditions in which these programmes were established in 2008," the Ministry stated.
The incentive programs were created in 2008, destined to encourage the oil exploration and exploitation, to incorporate reserve and increase the oil productions, the ministry detailed.
Argentina is cutting some popular transportation and energy subsidies in a bid to shore up its financial position. Argentina has been shut out of the international capital markets since its 2001/02 debt default. Analysts said the latest measure is in the right track and impact on oil firms will be minimal.
"These are subsidies that the government gave to encourage them to extract more oil," said Gustavo Calleja, a former Argentine deputy fuels secretary. "They were given to them at a time when (the price) of crude was at a freeze," Calleja said.
Argentina is increasingly dependent on energy imports to meet surging demand for natural gas and oil since 2003, following a rebound from a deep economic crisis.