Another setback for Carnival: several cruise vessels victims of the Norovirus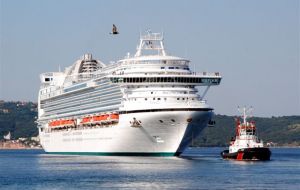 More than 100 people on board a cruise ship operated by a unit of Carnival Corp have fallen ill with a stomach virus, the latest setback facing the world's biggest cruise company, which came under scrutiny last month for the Costa Concordia cruise ship disaster in Italy.
Ninety passengers and 13 crew members on the Ruby Princess cruise ship contracted the Norovirus, a contagious gastrointestinal illness that causes vomiting and diarrhoea for one to three days, Julie Benson, a spokeswoman for Princess Cruises, a unit of Carnival, said in a statement.
The Ruby Princess set sail from Fort Lauderdale, Florida, on January 29 to the Caribbean and returned to Florida on Sunday, as scheduled. Another Carnival ship, the Crown Princess, was affected by the same virus last week, but it has been sanitized and has already embarked on its next cruise, Benson said.
Carnival is dealing with the financial impact of the Costa Concordia shipwreck, which tarnished its image and raised questions about the safety of the entire luxury cruise ship industry. The Costa Concordia capsized off the coast of Italy, killing 17 people. Fifteen people are still missing.
Carnival said on January 30 it would take a profit hit ranging from 155 million to 175 million dollars this year because of costs related to the wreck. The company has said it will release a revised full-year earnings forecast in March.
Royal Caribbean Cruise Ltd, the second-largest cruise operator and one of Carnival's rivals, warned on February 2 that it would face a sharp drop-off in new cruise bookings because of the wreck, which could cut its earnings in half during the current quarter.