Argentina/Brazil admit 'good understanding' in round of trade talks to lift restrictions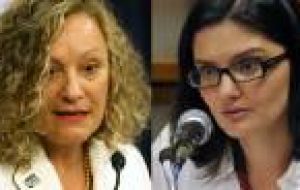 The meeting between Argentine and Brazilian officials to discuss the new trade legislation implemented by the government of President Cristina Fernandez ended in a "good understanding", said participants of the Monday meeting.
Foreign Trade Secretary Beatriz Paglieri met with her Brazilian counterpart Tatiana Prazeres in order to discuss the new measures and seek available solutions that can help minimize the effects of the current international economic crisis.
Sources said that their analysis focused on the trade of auto parts influx first, and both sides will meet again in Brazil in two weeks. As of February first all imports in Argentina must be presented in advance on a sworn statement, and will be released in the following ten days once the bureaucracy approved or disapproves the operation.
Mercosur member country exporters describe it as yet another 'protectionist' measure by the Argentine government and even local manufacturers feel they could face bottlenecks in the provision of imported inputs is unnecessarily delayed.
Industry Minister Débora Giorgi also took part in the meeting, which began at around 3:30 pm at the Foreign Trade Secretariat headquarters and lasted several hours.
Argentina which is barred from voluntary money markets because of the massive default of 2001 and pending hold-outs of sovereign defaulted bonds is forced to have a trade surplus, which in 2011 was over ten billion dollars, and is the floor target set for this year.
However a severe drought that is threatening grain and oilseed crops, lower international prices for commodities as anticipated by IMF and the World Bank and a growing oil bill because of insufficient exploration and production, are threatening this year's finances of Argentina.
Faced with this situation the government of Cristina Fernandez has appealed to the latest round of measures, strictly controlling imports which had led to conflicts with Mercosur members and other trade partners form the region.
Precisely one of the most important issues discussed was the bilateral trade balance which has consistently favoured Brazil and last year reached 5.8 billion dollars.
This is the second in a series of meetings that began last Thursday, when the president of the Sao Paulo State Industrial Federation (FIESP), Paulo Skaf, met with Economy Minister Hernán Lorenzino, Foreign Trade Secretary Beatriz Paglieri, Domestic Trade Secretary Guillermo Moreno and minister Giorgi.