Only the Falklands can determine its political future "not London, not Buenos Aires"
Tuesday, February 7th 2012 - 16:51 UTC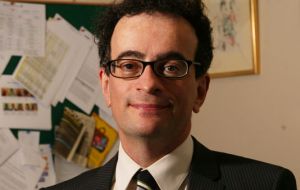 "We are well aware that Chile has a different position to us regarding the Falklands and this we understand, but it must be the Islanders who determine their political future, not London, not Buenos Aires or third countries", said UK ambassador in Chile Jon Benjamin in an interview with the Chilean media.
On holidays in the Magallanes region, extreme south of Chile, Benjamin said that UK regrets the fact Chile has subscribed the Mercosur decision to bar Falklands' flagged vessels from its ports, where for many years these vessels have been accepted and welcomed, as in most countries of the region.
However for Ambassador Benjamin what really concerns is the escalation of measures, including the threat by President Cristina Fernandez addressing the UN, to cut the only air link between the Falklands and the continent, which taken together are equivalent to an intentional incipient economic blockade of the Islands.
"That is a policy of isolating a civilian population, a policy that intends to intimidate the people of the Falklands", underlined the UK ambassador.
And you regret Chile is part of all this?
"There have always been trade links between the Falklands and the Magallanes region. There has been a very close and mutually beneficial relation for over a hundred years, including family links because there are many Chileans in the Islands and we want to maintain and promote those links".
Further on ambassador Benjamin rejected point blank Argentine claims that the UK is stepping up the Falklands militarily: "there has always been a navy patrol in the Islands and Prince William is a member of our Armed Forces, as a search and rescue pilot, and as such, all SAR pilots have a training period in the Falklands".
Likewise Benjamin emphasized that since 1833 there has been a permanent settlement in the Falklands although British claims go even further back, to mid century XVIII, even before Argentina existed.
"My question is if territorial issues allegedly linked to sovereignty, dating back to 1833 have to be reopened? Who is going to stop other similar claims on territorial and sovereignty issues after 1833? Where is this whole issue going to lead us and what is the logic argument that tells us which of these issues can be opened and which can't? I'm not referring to any specific case, it's up to you and your readers to interpret as they wish what I have stated", underlined ambassador Benjamin.
Regarding the air link from Punta Arenas to Falklands, Benjamin said that Chile "is a country most respectful of free trade and the government does not interfere in commercial issues of the private sector. And this flight, with a commercial purpose, has been ongoing uninterruptedly since the late nineties, so it is our wish that is continues as such".
And what about the UK's reaction to the US proposal of reaching an agreement based on a bilateral dialogue?
"That has been the State Department's position for years. It sounds very innocent to talk about holding discussions but in this particular case the Argentine government is demanding that such 'discussions' lead to the handing over of the Falklands sovereignty. And my question is, how can negotiations be held if for one side there is an only possible exit?
Finally, is the discovery of oil behind the Falklands' controversy?
Since it's a British Overseas Territory, we believe the people of the Falklands have the right to develop their natural resources in the way they understand most convenient. In the nineties we had a series of cooperation agreements based on common interests on conservation of fisheries, on natural resources, hydrocarbons, and it was the Argentines who walked out from those agreements".