Eight ton whale shark hauled out of the water: Largest catch?
Wednesday, February 8th 2012 - 23:57 UTC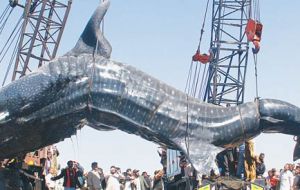 A group of Pakistani fishermen caught a monstrous whale shark in the Arabian Sea. A video clip was posted on YouTube showing the fish, about 40 feet long and six feet wide, being hauled in at the port using cranes in the Pakistani city of Karachi.
Large crowds of astonished people gathered to see the eight-ton whale as two cranes struggled to haul it out of the water at Charai Fishery. But several other cranes had to be brought in to join in the effort according to the Pakistan Daily Times.
According to the owner of Charai Fishery Mehmod Khan, the shark was seen floating unconscious on the water ten day ago, about 90 miles from shore.
The Karachi press reports the largest confirmed whale-shark was 41 feet long, but experts say whale sharks can grow much longer and larger than that. A whale shark caught off Anping Tainan County in Taiwan, on 30 March 1994, was reportedly weighed at 35.8 tons.
Whale sharks are found in tropical waters and have a life span of about 70 years. They feed mostly on plankton, microscopic plants and occasionally on small fish. The mouth can be up to 5 feet wide and contains between 300 and 350 rows of teeth. According to National Geographic, the whale shark "is a filter feeder. In order to eat, the beast juts out its formidably sized jaws and passively filters everything in its path. The mechanism is theorized to be a technique called 'cross-flow filtration,' similar to some bony fish and baleen whales."
In spite of its monstrous proportions (it is believed to be the largest fish in the sea), the whale shark is a gentle animal and poses little danger to humans, and some have allowed swimmers to ride on their fins.
Whale sharks were added to the list of endangered species by the International Union for Conservation of Nature.
According to Pakistan Daily Times, this is not the first time Karachi has witnessed such a massive fish. Last September, a 25-foot long whale was washed ashore attracting a large number of people to the port.