Furious Malvinas war veterans attack lawmaker; claim they were 'manipulated'
Wednesday, February 8th 2012 - 20:16 UTC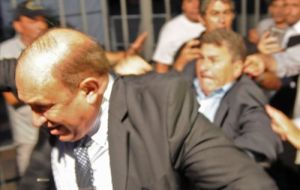 A group of Malvinas war veterans assaulted Tuesday evening an Argentine lawmaker as he exited Government House following President Cristina Fernandez Malvinas war "give peace a chance" speech. He had to be rescued by the police and driven away in his car.
Malvinas war veterans also accused the government of organizing a big show in their name to the advantage of politicians and 'friends of power'.
Jose Maria Diaz Bancalari belonging to the ruling coalition main grouping Victory Front was the first official to exit the Government House and as he addressed reporters, he was insulted and then physically attacked by veterans belonging to the Buenos Aires province Federation of Malvinas war veterans.
The attackers reportedly couldn't enter the Government House to take part of the ceremony and questioned lawmaker Díaz Bancalari over the announcement of the creation of a mental health hospital for veterans.
After he was assaulted, Díaz Bancalari backed away and as he again addressed reporters he was once again punched and kicked.
Allegedly Bancalari claimed the veterans are "professional provocateurs" sent to distort the event and accused them of "not wanting to recover the Malvinas Islands".
The mob exploded. He was ultimately rescued by the police and able, notoriously dizzy, to get into a car that was waiting for him.
"They made us believe we were the heart of the announcement and the event, but left over half our members outside", complained Sergio Novarin from the veterans' organization.
"A few veterans were allowed in then came La Campora (Kirchnerite youth movement) and the rest of us were left outside. That is why the boys are so furious and disappointed", he added.
The Malvinas war veterans and lawmaker Diaz Bancalari have been at odds since 2008 when he was one of the promoters of a bill that would benefit combatants who actually saw action in the Falklands but also the rest of the forces mobilized but that never left the continent.
The bill was never approved because of the strong resistance and threats from several groups of Malvinas war veterans.
After the Diaz Bancalair incident protestors remained at the exit of Casa Rosada waiting for Rodolfo Cortez national coordinator of Malvinas veterans and who responds directly to the Argentine Executive. Cortez was responsible for inviting the different groups of veterans.
"Cortez used us; he let us down; our seats were taken over by political organizations and friends of the president", claimed Omar Sanchez head of the Malvinas former combatants federation from the province of Buenos Aires. "They played with us, they manipulated us".
The police rapidly cordoned off the area and Cortez and the rest of those attending Cristina Fernandez speech were able to leave undisturbed.