Bank of England pumps an extra £ 50bn to boost the UK economy
Thursday, February 9th 2012 - 20:25 UTC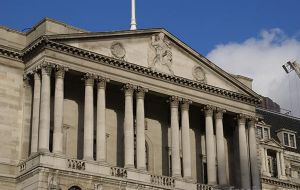 Bank of England has agreed to extend its quantitative easing (QE) program by £50bn to give a further boost to the UK economy. When completed, it will bring the total amount of QE stimulus to £325bn.
The Bank started its QE programme, through which it buys mainly government-issued bonds, freeing up cash for lending, in 2009. The Bank's Monetary Policy Committee (MPC) also said it would keep interest rates at their record low of 0.5%.
UK interest rates have been held at that level since March 2009.
The BBC's economics editor, Stephanie Flanders, said the £275bn of QE undertaken so far was an amount equivalent to nearly 20% of the country's GDP.
Initially, experts were predicting an extra of £75bn of QE, but this figure was reduced to £50bn when economic surveys released last week indicated that the manufacturing and service sectors had performed better than expected in January. However, concerns remain over weak consumer spending and the Euro zone crisis.
The Bank of England said in a statement that "The underlying pace of recovery slowed during 2011, with activity falling slightly during the final quarter.
"Some recent business surveys have painted a more positive picture and asset prices have risen. But the pace of expansion in the United Kingdom's main export markets has also slowed and concerns remain about the indebtedness and competitiveness of some euro-area countries."
It added that without another stimulus from QE, inflation was likely to fall from its current 4.2% to below its 2% target, as rising unemployment and falling import and energy prices fell away, and as the VAT increase from 17.5% to 20% last January also dropped from the annual comparison.
Official economic data also released on Thursday showed import prices fell by 1.3% between November and December. Other figures showed that industrial production, which accounts for about 15% of the economy, grew by 0.5% on the month, against forecasts for a 0.2% rise. (BBC)