Police strike shows security remains main challenge for Brazil's world events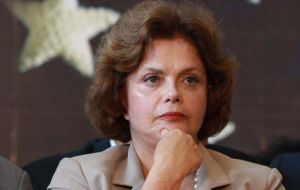 Hundreds of striking police officers ended their 10-day occupation of a state assembly house in Brazil's third-biggest city, easing tensions in a walkout that unleashed a bloody crime wave and threatened upcoming carnival celebrations.
It was unclear, however, whether the decision by 245 striking police and family members to leave the assembly building would lead to an end to the strike itself. Strikers were expected to meet t decide whether their work stoppage would continue.
In addition to disrupting preparations and scaring off visitors ahead of next week's carnival festivities, the job action has raised doubts about security in Brazil ahead of the 2014 World Cup.
About 20% of the 31.00 police officers in Bahia, the north-astern state of which Salvador is the capital, walked off their jobs on Jan. 31. The stoppage led to a crime spree that included at least 150 murders, twice the regular homicide rate, and widespread assaults, looting and vandalism.
Some of the offencs allegedly were committed by police officers themselves, complicating negotiations with state officials who have refused the strikers' demands that officers be pardoned for any crimes during the walkout.
President Dilma Rousseff, who late last week dispatched 3.00 federal troops to Bahia to restore order, backed state officials' unwillingness to consider an amnesty.
"There can be no amnesty for illegal acts, crimes against property, crimes against people, crimes against public order" Rousseff said on Thursday during a visit to Bahia's neighbouring state of Pernambuco. Such an amnesty, she added, would create "a country without rules."
The end of the statehouse occupation provided some relief to a city stricken by fear at a time when Salvador normally would be gearing up for its popular annual carnival celebrations. It also saps momentum from a protest that officials feared could spread to Rio de Janeiro and other Brazilian states where police officers, like those in Bahia, are demanding a pay raise.
Salvador and Rio are among the 12 cities chosen as venues for soccer's World Cup, just two years away, which is expected to attract as many as 600.000 foreign visitors. Having already faced criticisms by FIFA, soccer's governing body, over the country's preparations for the event; Brazilian officials are scrambling to ensure that security woes don't complicate matters further.
Meanwhile State security leaders in Rio have also said they can ensure adequate protection in the city even if police there do decide to strike. The state's assembly voted Thursday afternoon to increase police wages in Rio by 13%, with an additional hike next year, though police haven't yet said whether the increase would be enough to prevent a walkout.