US/Argentina discuss bilateral relation and regional democratic stability
Friday, February 10th 2012 - 01:17 UTC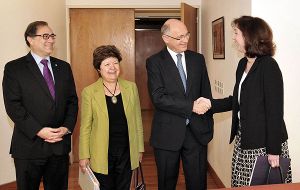 Stability, governance and democratic safeguard were among the issues addressed by US Assistant Secretary of State Roberta Jacobson and Argentina's Foreign Affairs minister Hector Timerman during her first day of activity in Buenos Aires.
According to a statement released by the Foreign Ministry, Timerman had a breakfast meeting with Jacobson, and were joined by Argentine ambassador to the US Jorge Argüello and US ambassador in Buenos Aires Vilma Martínez.
"During the meeting, both parties discussed their respective progress in the new directives set by Presidents Cristina Fernández and Barack Obama during the Cannes summit last November" evidencing the common goals that are part of "our rich bilateral agenda".
"In that matter, both sides praised the resulting benefits of strengthening regional organizations in Latin America as well as the key role they have played in several opportunities when they needed to safeguard democratic stability," the statement added.
Both representatives also praised bilateral cooperation in matters such as human rights protection, assistance to vulnerable sectors of the population, education, science and technology.
Timerman and Jacobson "highlighted that both countries are interested in working in these and other areas such as scientific cooperation – looking for a cure for cancer being another successful example – given the available technical and human resources."
Education was also mentioned as a crucial element for social inclusion as well as the exchange of students to create a web of relations and contacts which helps to promotes close relations between societies. The two officials underlined the commitment to "significantly increase the exchange of Argentine students to the US and US students to Argentina".
Regarding scientific and technological cooperation both countries pointed out the recent successful launching of the Argentine SAC-D Aquarius satellite which has opened vast fields for joint research and to keep advancing in this area.
They also agree to "maintain a continuous dialogue in order to discuss matters of common interest". However no mention was made if the Falklands/Malvinas issue was addressed by the two officials.
The US government had reported that Jacobson was visiting Argentina in order to "discuss forms of collaboration between the US and its partners in the region before the Summit of the Americas next April".
Ms Jacobson is scheduled to meet with Cabinet Chief Juan Manuel Abal Medina on Friday.