Baroness Meryl Thatcher wins Bafta best actress for "The Iron Lady"
Monday, February 13th 2012 - 20:15 UTC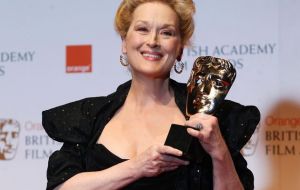 Meryl Streep won the best actress at the British Academy of Film and Television Arts, Bafta, for her performance in The Iron Lady, continuing a triumphant awards season that looks set to carry her all the way to Oscar glory.
The 62-year-old lost a stiletto shoe on the way to the stage and struggled to keep her composure. "That couldn't be worse!" she exclaimed as she reached the podium.
Streep said she was "very proud" of the film and told the audience that she had British roots. "Half of me is Streep and the other half of me Wilkinson from Lincolnshire," she said, referring to her ancestors.
Streep has notched up a remarkable 14 Bafta nominations over five decades but this was only her second win. Her first was for The French Lieutenant's Woman in 1981.
Fry addressed the actress as "the Right Honourable Baroness Meryl Thatcher" and joked at the start of the ceremony: "I guess this could be the first time in recorded history that we hear the words, 'Maggie, Maggie, Maggie - win, win, win!"
The Iron Lady also won the best hair and make-up award - Streep spent more than two hours each day being transformed with the aid of prosthetics.
But the night belonged to The Artist, director Michel Hazanavicius's love letter to cinema's silent era, which romped home with seven awards. They included best film, best director and best original screenplay, the latter prompting Hazanavicius to joke: "Actually, I'm very surprised. So many people thought there was no script because there was no dialogue."
Jean Dujardin won best actor and said he was delighted "to receive this award from the country of Laurence Olivier, William Webb Ellis and Benny Hill - c'est incroyable".
Asked to explain the runaway popularity of the film, star Dujardin said: "It's a simple story - a love story. It's universal. And everyone loves a cute dog."
Stephen Fry hosted the ceremony at the Royal Opera House. Sir Tom Jones opened by singing Thunderball, the Bond theme, to mark 50 years of 007 at the cinema.
Presenters included Russell Crowe, returning to the Baftas 10 years after the infamous occasion on which he pinned a producer against a wall backstage because he was furious that his on-stage poetry recital had been cut from the televised broadcast.