Chilean community in Falklands plan to write a letter to President Piñera
Monday, February 13th 2012 - 21:05 UTC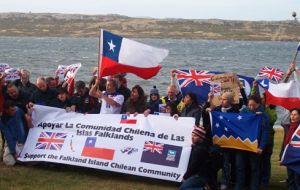 After a successful turnout and demonstration last week, the Chilean community in the Falkland Islands will be deciding this week on addressing letters to President Sebastian Piñera and President of the Senate, Guillermo Guiralde to tell them that in the Islands there is also a piece of Chile.
Last week members of the Chilean community rallied on the Stanley sea-front to send a message to President Piñera and the Chilean people, and to expose recent threats by Argentine President Cristina Fernandez to refuse airspace to the weekly LAN flight to the Falkland Islands from Santiago.
For the 250 strong Chilean community, the flight is their only viable link with home and losing it will leave them stranded far from home.
"It is not a protest", emphasized Antoine Daille, one of the principle organizers, "it is a statement, a request to our President that he listen to and support the 250 Chileans living in the Falkland Islands. He is dealing with Argentina without taking us into account and we are worried about the threats that have been made to cut the LAN flights."
Fernanda Tapia and Jenny Sanchez, two Chileans who have lived in the Falklands for many years and consider the Falklands to be their home as much as Chile, said "we want the Chilean Government to remember that there is a piece of Chile here in the Islands….the problems Great Britain and Argentina have are issues between them, we are for the Falklands and Falkland Islanders and for what they want."
However not all Chileans were in favor of the rally and declined to take part. "One or two local people were quite angry with us too" said Daille. "They think that if we make an issue of the threats to the LAN flight, it will be more likely to happen. But we have had lots of support from everyone as well, Chileans and locals: all the Chileans in Camp have phoned us to offer their support."
The Chilean community in the Falklands has long established links Punta Arenas and represents almost 10% of the total Islands population.