South Africa will have a new multi-purpose polar research vessel next season
Monday, February 13th 2012 - 23:11 UTC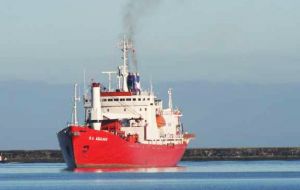 The South African 30 years old research and supply ship "SA Agulhas" made her last ever call to King Edward Cove in South Georgia Island on January 15th. She will be replaced by a new icebreaker currently being built in Finland next season, reports the South Georgia Newsletter.
She has been a regular visitor to South Georgia and the South Sandwich Islands (SSI) in recent years both for the annual service of the South African weather station on Southern Thule (SSI) and to drop off weather buoys at KEP.
The buoys are deployed in the Southern Ocean throughout the year by the "Pharos SG" whilst on patrol. The drifter buoys gather data from the large expanses of ocean in the southern hemisphere. Each weighs about 20kg and consists of the buoy, instrumentation and a drogue to slow the buoy down and ensure that it is not blown around by the surface winds too much. Each buoy lasts about 6 months to a year depending on battery life.
"SA Agulhas" is now around 30 years old and a new vessel has been commissioned to replace her. The new 134m long ship, the "SA Agulhas II" is currently being built in Finland. The icebreaker is a multi-purpose polar research vessel capable of carrying 100 passengers as well as a lot of fuel, cargo, two helicopters and acting as a research vessel. It will be able to steam at 16 knots in clear water and 5 knots in ice 1m thick. It will also have under-deck heating to keep the decks free of ice even in extreme conditions.
The new ship will visit South Georgia next summer. The future of the old ship is not yet decided but she may become a training vessel.
The servicing of the weather station at Southern Thule proved tricky this year as it was difficult to find a landing place for the tender. Ice blocked the normal landing beach and a heavy swell made landing conditions difficult elsewhere. They finally got in at Ferguson Bay to land two people, SA Weather Service Group leader Marumo Setlhare, and Senior Meteorologist Paul Lee who was just coming out after over-wintering at the South African Antarctic Base SANAE.
The Thule weather station comprises of a weather buoy attached to the wreckage of the old Argentine base which was destroyed after the occupants were removed following the 1982 conflict.