Argentina confirms it has accepted UN mediation offer for the Malvinas dispute
Tuesday, February 14th 2012 - 21:49 UTC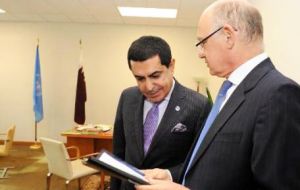 The Argentine government confirmed on Tuesday through a letter sent by Foreign Minister Héctor Timerman to the United Nations (UN) General Assembly President, Nassir Abdulaziz Al-Nasser, that Argentina had accepted the mediation offer in order to find a pacific solution with the United Kingdom over the sovereignty of the Malvinas Islands.
In the letter Timerman thanks the UN General Assembly president for all his efforts and recalls "last Friday's 10 February talks in New York referred to recent events in the Malvinas Islands question".
"I share your wishes made public on Friday that Argentina and the UK together can solve the dispute peacefully through dialogue among our two countries", said Timerman.
For that it is essential that the UK abides the many resolutions from the UN General Assembly as well as the annual ones from the Decolonization Committee and agrees to hold bilateral negotiations with Argentina to reach a peaceful solution to the sovereignty controversy.
Timerman in the letter says that Argentina on multiple occasions has reiterated its willingness to resume such negotiations but faces a persistent British refusal to satisfy the international community's wishes and suggests, "this is the objective on which it would be convenient to channel all efforts".
Timerman then enumerates a long list of supports outside the UN, for the Argentine position, from Ibero-American summits, and the Group of 77 and China to Unasur, Mercosur and Celac.
"Argentina accepts with the greatest of interest and attention the initiatives and suggestions that from your high responsibility you will be sending us with the purpose of contributing to the solution of the controversy and I beg of you to transmit this willingness to the UK".
Finally Timerman says he is particularly grateful to "Your Excellency for having committed your availability to coordinate between both sides involved, and your good willingness to support the efforts to solve the dispute between Argentina and the UK".
Last Friday following the meeting with Timerman, Al-Nasser said he was hopeful that Argentina and the UK can solve any dispute peacefully through mediation and dialogue and according to International Law.