Controversy over Argentine lawmakers doubling their salaries confirms runaway inflation
Tuesday, February 14th 2012 - 22:10 UTC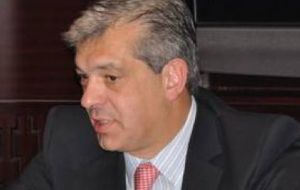 Argentina's head of the ruling Victory Front's bloc in the Lower House Deputy Julián Domínguez labelled those who lashed out against Deputies and Senators for doubling their salaries as "hypocrites".
In a televised interview, the former Agriculture Minister said "It's totally hypocritical to question the wage increase, and the mass media show that has been mounted around it", and added, "It is time to talk things like these in an open and frank way. The salary of a lawmaker is not something that must be hid from the population."
Likewise, Domínguez remarked that "These wage increase is so that lawmakers can recover their dignity, plus a great demonstration of respect for Argentina's institutions. It's not logical that a Deputy or a Senator make less than Congressional staff executives."
The Deputy also made the point that generous pay had the virtue of opening up politics beyond the rich.
"Politics cannot be just a thing for the rich or economic groups that do lobby within the Congress. Furthermore, this measure aims to tackle down the bribes and officials overpaid wages."
Thus, Domínguez responded to those who questioned the over 100% raise including some leftwing deputies like Victoria Donda, and Fernando 'Pino' Solanas.
Solanas of the leftwing Proyecto Sur considered it "an outrage" because "it's one thing to bear in mind inflation, like with everybody else, but not 100%".
Meanwhile, Donda who is member of the small Libres del Sur party forming part of Hermes Binner' Broad Progressive Front, also considered that the increase should be the same percentage as given to other workers: "Politics does not recover by enriching politicians," was her conclusion.
To end, a furious Domínguez explained that "it costs a lot for a deputy or senator to come from another province, settle down in Buenos Aires leaving his entire family behind", and fuelled it up, "Do you have any idea how much cost to live in another place? How much it costs to dress up properly? How much costs a suit or a shirt?"
"Lawmakers deserve a decent income; previous salaries were not worthy, and the less the public opinion should do is to understand the measure as the recognition to such important roles they play", underlined Dominguez.
Arguments aside the over 100% increase, which takes lawmakers salaries to the range of 6.500 to 8.000 dollars per month, became public at a most inconvenient moment, since a round of salary negotiations has taken off.
While the government of Cristina Fernandez has 'suggested' a roof of 18 to 20%, based on the official annual inflation rate of 9.8%, organized labour have anticipated they will struggle based on 'supermarket inflation', which according to estimates from private consultants, (banned from making percentages public), is in the range of 25%.