Argentina on the verge of "unprecedented energy shortage", say former ministers
Wednesday, February 15th 2012 - 05:32 UTC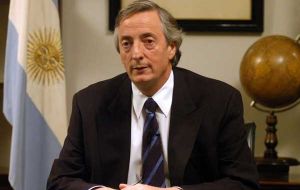 Argentina's Energy Institute, IAE, warned that the country faces an "unprecedented energy crisis" with strong drops in hydrocarbons reserves, production and the loss of self sufficiency.
IAE made up of former Energy ministers said in a release that the current energy situation in Argentina is no surprise: it was expected since there are "no long term policies for the industry, a total lack of planned strategy and an inadequate implementation of serious policies".
According to IAE since Nestor Kirchner took office in Argentina in 2003 and until 2010, oil reserves dropped 6% and natural gas 41%. In the same span of time oil production fell 18% and gas, 7%.
"We have become net importers of natural gas, fuel oil and gas oil with demand and tendencies increasing which presents an unprecedented and unsustainable fiscal effort plus an accumulation of social demands still unsatisfied".
IAE proposes an integral auditing of all exploitation concessions and hydrocarbons exploration licenses, debating a new Hydrocarbons bill and creating a new national oil corporation to manage the State's interests.
The document follows a recent attack from President Cristina Fernandez on oil companies, particularly YPF, Argentina's largest, for the alleged lack of investments to help a greater production of hydrocarbons.